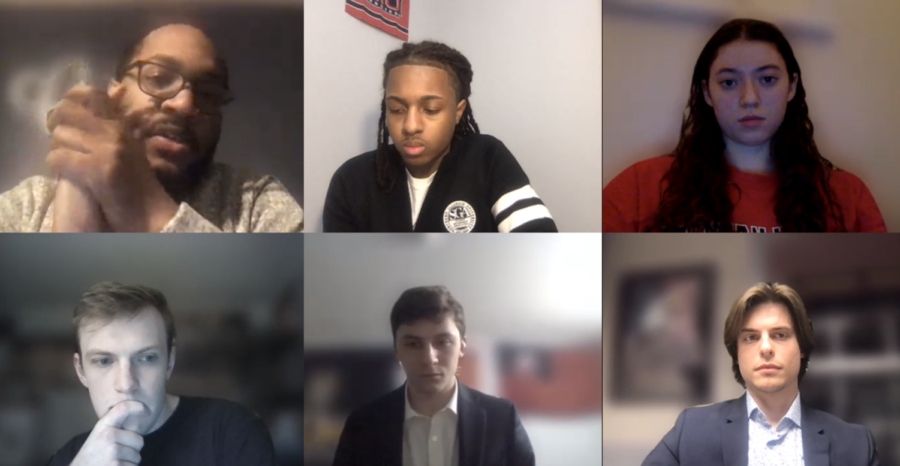 Ashley Dwy
DeKALB – SGA members voiced their concerns about the lack of communication between students and administration during the COVID-19 pandemic from 6 to 7:45 p.m. Thursday at the SGA town hall meeting.
Issues regarding the quality of education during remote learning, strict regulations on Greek life, whether student organizations are allowed to fundraise or hold tables in the Holmes Student Center and more were brought up during this discussion.
"It's very hard to learn in all of my classes because they are all theoretical and mathematical, and the only way I really learn math is when I sit down next to someone and have them write things out," said Jacob Sommer, director of academic affairs for SGA.
If professors had more training using Zoom or Microsoft Teams to better understand how to utilize their breakout room function, then it would allow for more face-to-face interaction between students, SGA election commissioner Cassandra Kamp said.
"A lot of my work as a psychology student in rehab services is learning how to interact in environments all over the place; it might be private, public or a clinical setting," Kamp said. "Not having those social interactions and being face-to-face and learning how to effectively communicate in person is very difficult."
Sommer said professors were equally unprepared for this semester as they were for the first online semester when they did not have a plan for online teaching. 
"It feels like a slap in the face for NIU students to be paying full price tuition when you're teaching yourself a topic off of PowerPoints and pre-recorded videos from five years ago," SGA vice president Kyle Jacobson said.
Besides communication in the learning environment, SGA deputy treasurer Bria Davis said NIU should be more specific on how student organizations can set up their tables to interact with the student body and fundraise. Davis, as the public relations chair for the Black Student Union, got in trouble for fundraising across from the Starbucks in the Holmes Student Center.
"I guess all tabling in the student center has to be informational and not fundraising or handing things out," Davis said. "So, just having clear guidelines on stuff like that (being explained), because having to pack our whole table up and not being told a direct reason why was not good. That was part of our fundraising and we needed the money for stuff, just to be told to pack it up."
Greek life has also received a lack of communication coming from the university. Raaif Majeed, chapter president of Sigma Nu fraternity said the university placed limits on recruitment and intake and had no conversation with the Greek community before placing such limitations. 
Johnson said the dean of students informed him that she spoke with a few members of the Greek community before placing these limitations, but Johnson, Majeed and the current and previous Interfraternity Council members don't know who they are. 
"Recruitment and intake is essential to the survival of Greek organizations here at NIU, and we do not have the privilege of having Greek organizations and triple-digit membership here," Majeed said. "In the fall, the university implemented a policy of recruitment that did not allow us to do any intake of first semester students at NIU, and due to the results of that, the Interfraternity Council has shrunken down significantly over the past year. Our average chapter size sits somewhere in the low 30s now, and, for the sake of reference, about five years ago your average chapter size at NIU was more than double that." 
The Office of Fraternity and Sorority Life told chapter presidents they were not allowed to hold events at their chapter facilities, their houses or apartments or any off-campus locations, Majeed said.
"Chapter houses are one of the most important things that we use as tools to recruit new members, and not being able to use them strategically and in a safe manner creates an environment where certain chapters have to go outside those limitations and create events that could potentially be dangerous to new students coming into the community," Majeed said.
The Interfraternity Council tried to fight these limitations, but it became a legal matter where lawsuits were involved and are still being played out, Majeed said. 
To combat this lack of communication, Malcolm Roebuck, SGA director of athletics and recreation, recommends getting on an email list to stay informed about topics such as emergency funding, internship opportunities or other important information regarding students' colleges.
"I put my email down for graduate school, and since then the same lady has been emailing me every important information including the emergency relief fund," Roebuck said. "If you get the opportunity to, put your email down and get on an email list in your respective college. That may be beneficial because it's definitely helped me."