Center for the Study of Women, Gender and Sexuality celebrates 40 years
DeKALB – In 1972, students and faculty began a planning committee for a Women's Studies Program at the university. In 1981, the plan was approved and the first Women's Study course was offered during the fall semester. As of 2020, NIU began to offer a Women's, Gender and Sexuality Studies Major. 
"I think the Center for the Study of Women Gender and Sexuality includes the study of women from a very diverse perspective and also includes the study of LGBT people, so that's one issue that I think is important in contemporary time," acting director Jessica Reyman said. "The other issue I guess that I would highlight today is raising the visibility and allowing us to see the importance of Black feminism, as we collectively work toward anti-racism and anti-sexism." 
The program has evolved since Amanda Littauer, associate professor in the Center for the Women, Gender and Sexuality and History, began in 2009. She said via email since her joining, the Women's Study Program became the Center for the Study of Women, Gender and Sexuality to also incorporate LGBT studies. 
"This broad scope reflects the state of the field nationally and positions us to be able to teach about and contribute to conversations at NIU about how sexism, heterosexism, and cisnormativity – the privileging of cisgender, or non-transgender, experience and subjecthood – intersect with white supremacy, ableism and other systems of dominance to limit the life chances of marginalized people," Littauer said via email. 
Harvey Green, junior psychology and women's, gender and sexuality major, is glad to be a part of history by being one of the first eight students to pursue the major. 
Celebrating the history
The faculty of the center is taking the time to reflect on its history and thinking about the future during the celebration of the 40th anniversary, Reyman said. They are in the middle of revising their mission statement to reflect what Women's and Gender Studies are at this time. 
"The Center for the Study of Women, Gender, and Sexuality is preparing a media and event series showcasing the program's long and impressive history. Based in part on oral history interviews and archival documents, we are creating an interactive timeline," Littauer said via email. "We also have our annual CSWGS Student Research and Artistry Symposium in April, which is part of our celebration."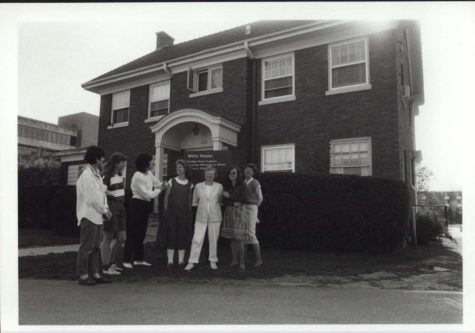 Chynar Amanova, doctoral adult and continuing education major, will be speaking at the Student Research and Artistry Symposium on April 7. 
The center's importance
Students Emily Brown, sophomore computer science and women's, gender and sexuality major, Amanova and Green who are a part of the center said their classes provide a new perspective and enhance their education. 
"I think computer science is definitely one of those fields that could use more diversity and more representation, more understanding of just the humanities in general, and I think like women's studies, queer studies, all of that stuff is a super great (thing)," Brown said. "I think it's a wonderful thing to have, going into that field just to bring that diversity into it and to bring that perspective." 
Amanova said the program promotes awareness that she hopes to spread to her students in her home country, Turkmenistan. 
"Coming from a developing country, I value the knowledge and education to develop myself academically and professionally, so that I can further investigate the issues regarding women's struggle with society," Amanova said. 
Green plans to combine what they learn through the women's study program in their future career. 
"I am looking to become a counselor and, you know, I, as a queer trans person myself, I know that the kind of approach that I want to take to counseling is something that is intersectional and recognizes identity— particularly queer identity," Green said. 
Littauer teaches a survey class of 50 to 100 students almost every year. She said she loves seeing a lightbulb go off in students when they realize they are something more than what scholars have identified. 
"
The work that we do in the program matters, and I'm grateful to get to do it."
— Amanda Littauer
"Helping students learn to use these theoretical lenses to see themselves and their worlds in a new light is incredibly meaningful, every single semester. The work that we do in the program matters, and I'm grateful to get to do it," Littauer said via email.  
Courtney Gallaher, associate professor in the Center for the Women, Gender and Sexuality and Geography, said the center is important to her because it allows her to do engagement projects with her students. 
"Being part of an interdisciplinary center, particularly one that's focused on gender and social justice issues, has been a really fulfilling thing to be part of because we do really interdisciplinary research, very supportive of each other and like genuinely cares about our students and their well-being," Gallaher said.