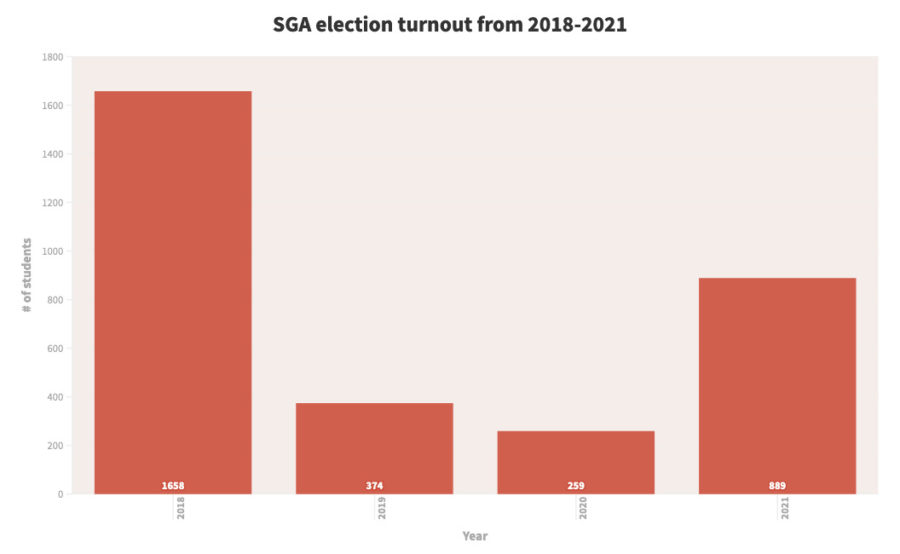 Kierra Frazier
DeKALB – There were a total of 889 votes in the SGA elections this year, compared to last year's 259. This is a 630 vote count increase largely due to the efforts of the Election Commission.
Coupled with large competition in the elections, the Election Commission reached out to many students through word-of-mouth, sending out mass emails to different entities such as the colleges and through the Dean of Students and outreach through social media.
A lot of attention was brought to the elections because of the increase in competition, chair of the Election Commission Michael Verlinsky said.
"One of the big factors that played into this election that was different from the past was that we had more than just four candidates who were applying for those executive seats," Verlinsky said. "We had attention from a large number of groups on campus and from students that hadn't even lived on campus or were transfer students who wanted to get involved and wanted to represent their fellow student body."
The Election Commission also asked the senators to reach out to students who may be interested in running for the elections, deputy speaker Dallas Douglass said.
"[The Election Commission and Public Affairs committee] made a spreadsheet for us to fill out with the students' names, whether they were interested if they were given more information, etc," Douglass said. "I think we actually got a few people running in the election directly from that."
For the next Election Commission, election commissioner Cassandra Kamp recommends utilizing word-of-mouth in the halls with large amounts of student traffic.
"The biggest thing is reaching student traffic in larger halls that students facilitate, so the College of Business, DuSable Hall, Barsema Hall, and we have a decent amount of students go through the front half of the Engineering Building," Kamp said. "It's nice that the Student Government Association is in the HSC now, so we can use that as a hub to connect with the students on a more personal level."
The Senate is moving to a college-based model next semester, according to a Jan. 25 Northern Star article. Because of this, it is important for the next Election Commission to engage in the colleges, Speaker of the Senate Brad Beyer said.
"I recommend reaching out to academic directors, to deans of different colleges, to reaching out to different majors because that's one of the things we incorporate in the new Senate model was making sure that we had representation from every single different college," Verlinksy said.
High turnout for elections is important because students have a part in the decision and in deciding who will represent them, Beyer said.
"I think it's really important that we have that democratic process and we make sure students are involved in it because then they become aware of who they're appointing to these roles and hold them accountable to the things that they said they would do in office," Kamp said.