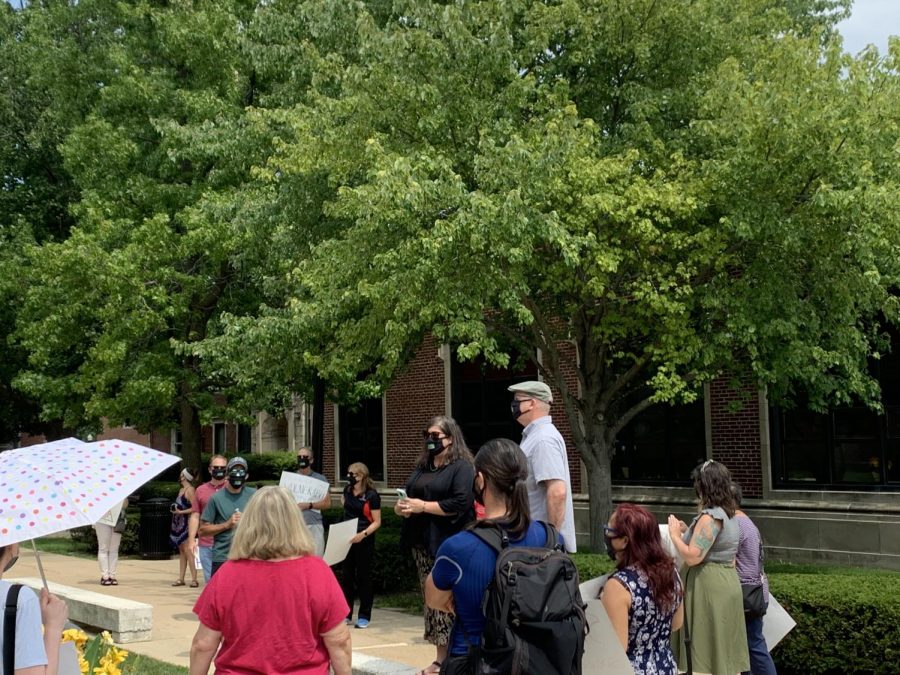 Ashley Dwy | Northern Star
DeKALB — Faculty members will be able to pivot to remote learning if the COVID-19 positivity rate on campus reaches or exceeds 8% following a mutual health and safety agreement between faculty and administration finalized Sunday.
The agreement also allows any immunocompromised faculty members or caretakers of immunocompromised individuals to teach remotely at any time. On top of that, masks will be required for all students, faculty and staff in all spaces where instruction takes place, including the library, according to the Tuesday news release.
NIU faculty who are also part of the University Professionals of Illinois have been bargaining with administration for the last couple of weeks and  hosted a rally Friday to ensure negotiations were finalized before the start of the semester on Monday.
"We encountered some challenges during negotiations, but we are very pleased to announce that the parties have successfully bargained an agreement that we believe will protect our campus, our families, and all of DeKalb," said Kerry Ferris, associate professor of sociology and president of the tenured faculty union, in a new release.
The University Professionals of Illinois are an academic collective bargaining group for higher education in Illinois. They represent seven of the 12 Illinois public universities at the bargaining table, according to UPI's website.
The union and administration previously agreed on using air purifiers with HEPA filters in instructional areas, mandatory surveillance testing and requiring all students to be vaccinated.
Keith Nyquist, instructor of business communications and president of the non-tenured faculty union, said faculty are excited to begin the fall semester in-person with students and hope it stays that way. 
"But in the event the surging Delta variant makes that too dangerous, we believe the agreement our union bargained will help ensure the greatest level of safety possible for our students, our families, and our neighbors. This is a win for the whole community," Nyquist said in the news release.