POV: What it's like being in a band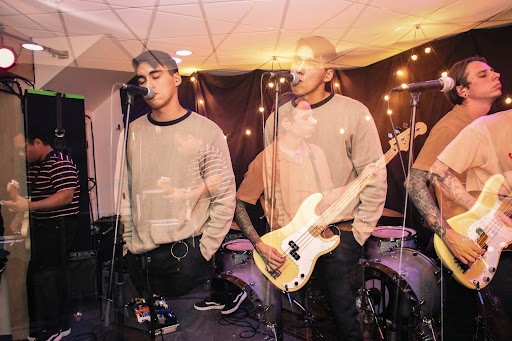 Muted Color is a post-punk shoegaze band from Chicago that was born out of a desire for something new, yet familiar. It is also the band that I have the pleasure of performing in. 
Being a part of a band, even a small one like Muted Color is a crazy experience. It's something that obviously can be extremely fun, but what most might not know is it can also be tedious, as well as cathartic at times. 
I started singing in Muted Color in 2018 after the band had already formed early that year. The band started inside The Owl, a bar in Chicago, after Tyler Gargula and Tom Aparici turned a casual night out into a brainstorming session writing band names on napkins. Gargula and Aparici would finally land on a name after reading a loose definition of the word pastel, reading "muted in color."
With the band name set, the two former guitarists of the local hardcore band SPIT would look to their friends and family to help them complete the band. They got Aparici's cousin Jet Tacuboy and Gargula's lifelong best friend David Bieschke to join the group, playing drums and bass, respectively. However, Muted Color was still missing a piece of the puzzle: a vocalist. 
This is where I come in. Muted Color posted on their social media pages that they were auditioning vocalists for a project. I went to high school with Tom, so I decided to take a shot at it. Long story short, I ended up auditioning and singing on a couple of tracks, getting the spot, and meeting the band all within a month and I've been trying to make the most of it ever since. 
The band has been steadily growing. Obviously, the COVID-19 pandemic stalled our plans for a midwest tour, but we're still gaining listeners, and have some pretty big things in place for the future. 
 It's been a wild ride that has taught me a lot about myself and being a musician in general. The main thing I've learned is how much work being in a band actually is, due to the fact that you're essentially creating and running a brand. The number of responsibilities beyond performing can get kind of overwhelming at times, from developing and shipping merchandise, running social media accounts, booking and planning shows to creating new music and recording it all. There is definitely a lot of work that goes into being a member of a band.
Being in a band has also allowed me to grow as a person as well. It's been a dream of mine to pursue, but it requires me to step out of my comfort zone. I am someone who is normally really reserved and keeps to myself, so putting myself out there both on stage and personally through my lyrics are struggles that I'm still getting used to. 
It's in those moments of discomfort where I try to remind myself that if everyone stayed in their comfort zone, a whole lot less innovation would have happened. So, I guess that's my advice to anyone on the fence. If you want to do something, do it; if you want to join a band and play music, do it. Because I did it, and I now have such great memories and lifelong friends that I wouldn't have otherwise.