Bike Man to return to campus after 15 years
DeKALB – Many students may not remember or may have never even heard of Bike Man, real name Chris Daniels, but he is known by many NIU alumni, staff and administration. Bike Man is planning to return to NIU this homecoming.
Daniels attended NIU in 2001 and graduated in 2006 with his bachelor's degree in engineering, and then went back to NIU from 2012 to 2016 and got his master's in engineering.
The name Bike Man was created after Daniel's bike, which was elaborately decorated and featured four speakers, aluminum foil rims, a TV and a PlayStation. Before he knew it, the name Bike Man had spread across campus, Daniels said.
"I was driving down Greek Row and people were cheering, 'Bike Man! Bike Man!'" Daniels said.
NIU alumnus Larry Bolles got his doctorate in higher education administration from NIU and was the director of judicial affairs at NIU until he retired in 2012.
"The spokes had lights; it looked like a Christmas tree sometimes," Bolles said. "Especially at night, and he could press a button and make things happen with the lights. And that's what the kids just loved, he had sound, and he had lights." 
It was a mystery to many, including engineering professors, on how Daniels got the music to be so loud compared to the size of the speakers that he had. 
"Some members of the administration, including the police department, wanted me to suspend or expel him for the noise," Bolles said. "He was an engineering student, and I pulled him up on my computer to see who this kid was. He was a straight-A student."
At first, being called Bike Man was weird for Daniels, but over the years, Bike Man became his brand and gave him more opportunities to help other people with engineering and electrical problems. 
"Everybody still calls me Bike Man to this day, and I mean everybody," Daniels said. "I decided to take that and use my talent and just give back to the people, and give back in the best way I can."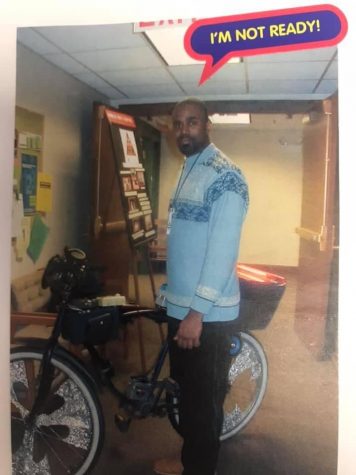 Since graduating from NIU, Daniels has worked and dealt with farming equipment, industrial equipment, circuit breakers and most recently, he has been heavily involved with the lighting industry.
Daniels has been on and off the campus but has not ridden his bike on campus since 2006. He plans to return to NIU during homecoming from Thursday to Sunday. 
"I used to play R&B, and I plan on playing R&B," Daniels said. "Traditional R&B, something that has rhythm, something that is music. That's what I like to play because I like to listen to music, and music is what inspired me to make that bike the way that it is."
For his return this year, he has a few new additions and surprises he has made to his bike.
"This bike will actually be in NIU colors," Daniels said. "Back then, I used to have a bike that you could change colors. I've also had other colored bikes but never really had an NIU themed bike. It will have tail lights, brake lights, turn signals, hazards, I mean everything."
Originally, there were two bikes, but one was stolen before Daniels could add a GPS tracking device. After that, he added more decorations and devices to the remaining bike, including a GPS tracking tool that can take aerial pictures from outer space. The bike will also feature a battery that he is building himself, and it will be the first version with a motor, Daniels said.