NIU breaks records, falls to Kent St.
At a glance
Hammock credits Kent State coach for scheme that had NIU off balance
Rudolph breaks receiving yards record after Richie injury
Lombardi passes for 532 yards before being knocked out of game late
---
DeKALB — Junior quarterback Rocky Lombardi and COVID-freshman wide receiver Trayvon Rudolph both broke NIU single-game records, but the Huskies couldn't keep pace with the Kent State University Golden Flashes in a 52-47 road loss Wednesday.
Lombardi threw for a program-record 532 yards, breaking the record of Phil Horvath. Rudolph had 309 receiving yards, breaking the single-game receiving record previously held by Sam Hurd. Both records were set in 2005. Lombardi also threw three touchdown passes, all to Rudolph.
The performances failed to yield a win, playing catch up most of the second half with a Kent State offense that put up 682 total yards under head coach Sean Lewis.
"Lewis is an expert at their tempo and style of play," NIU head coach Thomas Hammock said. "They put you under stress in a variety of ways. They stress you both vertically and horizontally across the field. Then, you add in the element of a quarterback who can run up field and you're trying to defend a lot of different things."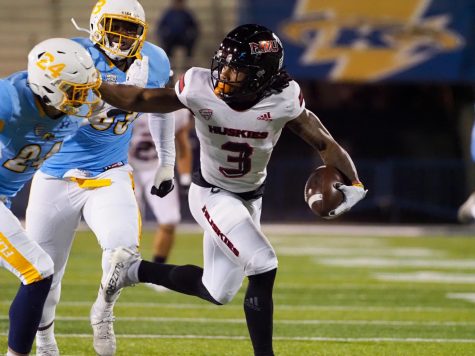 Rudolph's production came in part due to an ankle injury to redshirt senior wide receiver Tyrice Richie in the first quarter. While the former preferred walk-on was disappointed with the result, he said the game may be what NIU needs to grow.
"It would have been great to come out and win," Rudolph said. "I still did what I had to do to help us win. We needed one more stop and didn't get it, but it's okay. We probably needed this to refocus and get back on the path that we're working on."
Lombardi had his night ended prematurely after a hit to the head in the fourth quarter. Despite the hit, Lombardi appeared to be in good spirits on the sidelines not long after.
"(Rocky) talked to the team in the locker room and gave us a great message of what we have to do to get ready for next week," Hammock said.
The Huskies offense looked promising on their first drive, scoring on a 36-yard touchdown catch by Rudolph. 
NIU had another first quarter drive reach the Golden Flashes redzone, but it was ended on a forced fumble and recovery by graduate student safety Nico Bolden. Richie was not only the player who fumbled, but also had to be taken off the field on a cart.
The Golden Flashes fast-paced offense overwhelmed the Huskies in the second quarter, putting up 31 points in the period. Graduate student quarterback Dustin Crum rushed for two touchdowns while sophomore running back Marquez Cooper had a 27-yard rushing score.
"They made adjustments and executed," redshirt senior linebacker Lance Deveaux Jr. said. "We were trying to stop the pass and they gave us a lot more runs than we anticipated. That was a big adjustment for us."
NIU kept pace with a 75-yard touchdown catch and run by Rudolph and a touchdown run by COVID-freshman running back Jay Ducker. 
A third Crum touchdown, a four-yard pass to graduate student tight end Kris Leach, gave Kent State a 31-21 lead at halftime.
Both teams continued the breakneck offensive pace by scoring on their first possessions out of the break. Graduate student wide receiver Nykeim Johnson rushed for a 14-yard touchdown for Kent State to open the quarter. Rudolph scored his third touchdown of the night on the following drive.
A failed two-point conversion by NIU and a Crum touchdown pass to Johnson made it 45-27 at the end of the third quarter.
After struggling most of the night, Ducker found his way through a pile of defenders to score a 30-yard rushing touchdown. Another failed two-point conversion made the score 45-33 in favor of Kent State.
Redshirt senior running back Clint Ratkovich scored a six-yard touchdown to make it a one-score game with eight minutes left, but Kent State responded in a flash. Cooper juked out a few Huskies' defenders to find the endzone on a 36-yard touchdown run with 7:17 to go.
Lombardi had the Huskies rolling down the field, setting NIU up at the goal line before leaving the game. Ratkovich punched the ball in for the score. Kent State gained a few first downs on Cooper rushes and iced the game at 52-47.
NIU's winning streak ends at five with their record at 6-3 overall and 4-1 in Mid-American Conference play. Kent State moves to 5-4 overall and 4-1 in the MAC.
The Huskies return home at 6 p.m. CT next Wednesday when they meet the Ball State University Cardinals in the Battle of the Bronze Stalk rivalry game.