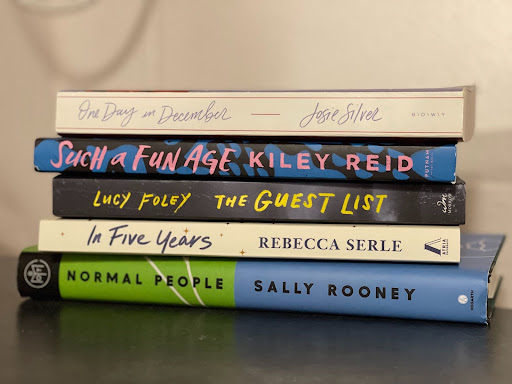 Daija Hammonds | Northern Star
Winter break can be the time for students to relax and catch up on some reading after a busy semester. Here are some short novels to help get through the break. 
"In Five Years" by Rebecca Serle (255 pages)
"In Five Years" follows Dannie Kohan and her life in NYC. Kohan has the perfect job, perfect friends and, recently, the perfect fiancé. That is until Kohan wakes up one morning next to a completely different person, in a different apartment with a different ring on her finger.
Kohan has been thrust into the future five years later with only one hour to spare before waking up in her original apartment back to her normal, perfect life and pretending nothing happened. 
Back in the present day, Kohan pushes that hour to the back of her mind until four years later when she meets the man from her future. This book is perfect for those who want love and heartbreak in their reads.
"The Guest List" by Lucy Foley (330 pages)
This book is a murder mystery and involves a wedding that takes place off the coast of Ireland. 
As the festivities begin and people start drinking, the guests notice a dead body, but have no clue who is responsible. 
The main suspects are the bride, the plus-one, the best man, the wedding planner and the bridesmaid. This book is for fans of Agatha Christie and whodunit novels. 
"Such a Fun Age" by Kiley Reid (310 pages)
Alix Chamberlain is a mother who decides to hire a babysitter for her child, not expecting the turmoil that is soon to come. 
When the 25-year-old babysitter, Emira, takes Alix's child to the grocery store, she is confronted by a security guard who believes that she, as a Black woman, has kidnapped the white child. 
The video of the confrontation goes live, and both Alix's and Emira's lives change drastically as they navigate racism and trauma in themselves and each other. 
"One Day in December" by Josie Silver (393 pages)
Laurie believes that love at first sight is only a movie trope until she sees a man as she's riding on the bus and realizes that he is the one. They lock eyes until her bus drives away and she fears she may never see him again.
She searches all over London unable to find him, until he shows up at the same Christmas party as her, but is introduced as her best friend Sarah's new boyfriend. 
The next ten years follow the three of them through love, heartbreak and friendship. 
"Normal People" by Sally Rooney (273 pages)
Connell is popular and the star of the soccer team, and Marianne is a lonely and private girl. In school, they pretend not to know each other, but when Connell picks up his mother from Marianne's house, they form a connection.
A year later at university, they have changed roles and joined different circles, but are always drawn back together. 
"Normal People" follows Connell and Marianne through the years as they explore status, family, friendship and the excitement of first love.