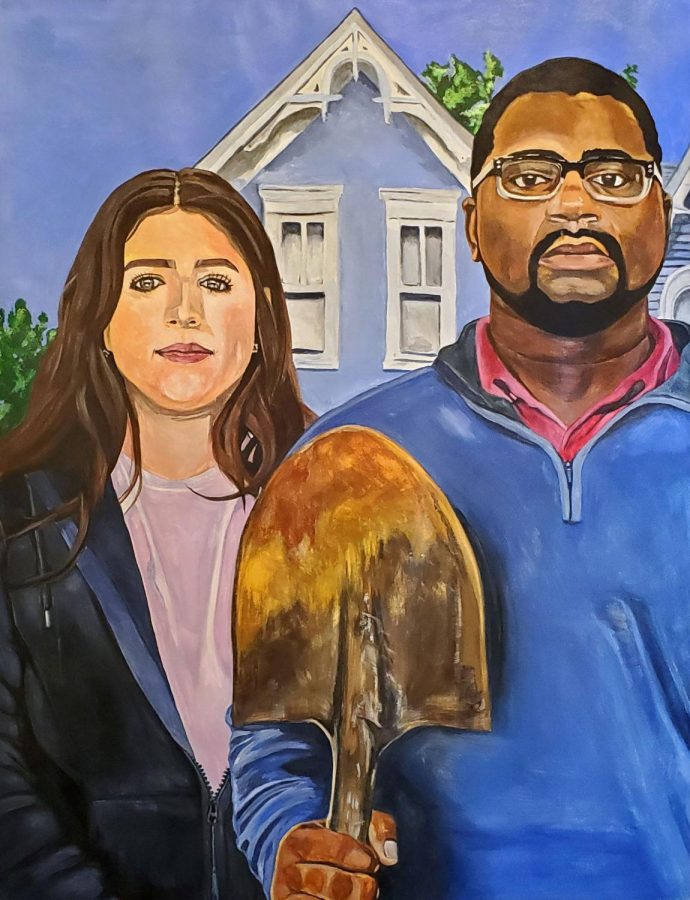 Courtesy of Arts in Action
DeKALB — The DeKalb County History Center and the Ellwood House Museum have collaborated on a virtual exhibit entitled "Arts in Action," investigating the history of race relations in DeKalb County through the artwork of nine visual artists and five poets. 
The project covers the often overlooked perspectives and experiences of DeKalb's Black and Latinx residents during the 20th century. It does so through the prism of four themes: fear, exclusion, community and hope.
Tours of the online exhibit are being offered by the two organizations and are led by Michelle Donahoe, executive director of the DeKalb County History Center, and Brian Reis, executive director of the Ellwood House Museum. 
"It's important because it's history we haven't shared before," Donahoe said. "We're presenting history. We're hearing voices of people that we haven't heard from before, and it shows us that we've got a lot of work to do."
Darius Jackson, founding member of the poetry group Four Poets, One Mic, spoke about the necessity of programs like Arts in Action.
"I think it's imperative to display the story, to let us know what life was like in DeKalb in the '20s,"  Jackson said. "It's very important because not too many people read up on the history, so having a way to display that historic background of where we were at in DeKalb, to display it in an artistic manner, is what grabs everyone's attention."
Jackson also opened up about the significance of providing students and artists with an outlet for their diverse perspectives and artwork.
"The whole project, the concept of it, I think it was ingenious, to be able to provide students with the opportunity to display and show themselves through their talents, but also by telling important history," Jackson said. 
Funding for the Arts in Action project was provided through a state-funded Healing Illinois grant intended to begin or continue the work of racial healing in Illinois.
"Our portion of the grant was $5,000, and we chose to use those funds for stipends for each of the artists, so we basically offered them $500 each to participate in the project," Reis said. "It was just to encourage them to continue on in their efforts of doing this work within the realm of social justice."
An in-person exhibit is being planned for Spring 2022 at both of the organizations' locations. 
"We're looking forward to when we can have this exhibit in person," Donahoe said. "We're hoping for the spring of 2022, and obviously, it's easier to have these discussions in person." 
Donahoe said that the organizations were planning a six-week exhibit that will include the artwork at the History Center and the Ellwood House.
Arts in Action's virtual exhibit is available on the Ellwood Museum's website. Curators of the exhibit encourage community feedback, and any individuals willing to share their stories regarding race relations in the DeKalb community can do so through the project's survey. 
For more information regarding the exhibit, contact Michelle Donahoe at michelle@dekalbcountyhistory.org.