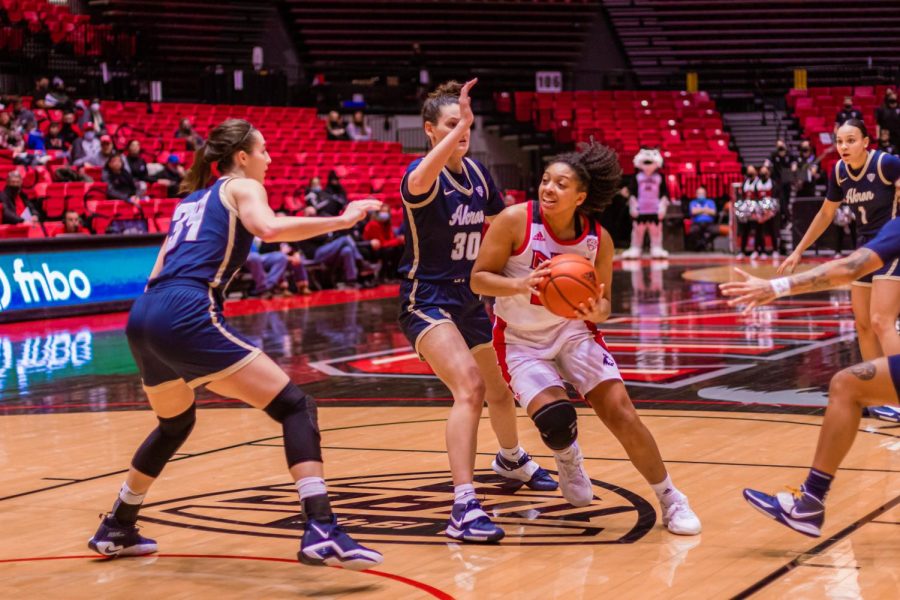 Summer Fitzgerald
Women's tennis
Saturday, Jan. 29 vs. University of Wisconsin | 9 a.m.
Saturday, Jan. 29 vs. Bradley University | 6 p.m.
Chick Evans Field House (DeKalb, Ill.)
NIU opens their 2022 dual match schedule Saturday as they face off against the Wisconsin Badgers and Bradley Braves in DeKalb. The Huskies will spend their first six games of 2022 defending their home court at Chick Evans Fieldhouse.
Women's basketball
Saturday, Jan. 29 at University of Buffalo | 1 p.m.
Alumni Arena (Buffalo, NY) | TV: ESPN3
The Huskies head back on the road after a two-game home stretch as they challenge the University of Buffalo Saturday. NIU will look to extend its three-game winning streak after their latest 61-55 victory over Kent State University Wednesday.
Men's basketball
Saturday, Jan. 29, at Central Michigan University | 3 p.m.
Convocation Center (DeKalb, Ill.) | TV: ESPN3
Men's basketball looks to impress in front of the home crowd Saturday as they host the Central Michigan Chippewas. NIU will play for its first victory in two weeks after dropping four straight leading up to Saturday's game.
Wrestling
Sunday, Jan. 30 at University of Arkansas at Little Rock | 10 a.m.
Sunday, Jan. 30 vs. California Polytechnic State University | 12 p.m.
Jack Stephens Center (Little Rock, Ark.) | Watch here
The wrestling team heads to Arkansas' capital city for a Sunday event against Little Rock and Cal Poly. There, the Huskies will compete to avenge their past four losses and earn their first win since Dec. 18.
Women's gymnastics
Sunday, Jan. 30 at Bowling Green State University | 1 p.m.
Anderson Arena (Bowling Green, Ohio)
The gymnastics team seeks to earn its first victory in one-on-one play as they travel to face Bowling Green State University in the Mid-American Conference opener. NIU has competed in three events in the year-to-date, finishing second in each with a score of at least 194.