Tails Pet of the Week: Ramos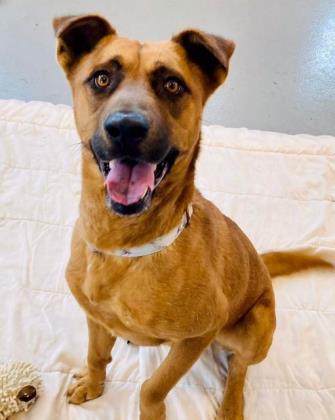 DeKalb- This week the Tails Humane Society is featuring a two-year-old dog named Ramos who is looking for a new home. 
Ramos is great with children as well as other dogs and walks great on a leash. Ramos does have some enemies; he is not fond of cats, rabbits, squirrels or many small animals. He is a skilled jumper and can definitely clear a fence. 
He loves humans and shows it with lots of kisses and knows how to hug. Ramos also loves to cuddle and claims he is the best. He also has a special talent: he can walk on his hind legs.
Ramos is a mixed breed 55 lb large dog predominantly tan in color with some darker fur on his face. He has been neutered and house trained and his adoption price is $350. 
Anyone interested in adopting can visit Tails Humane Society on 2250 Barber Greene Rd. Weekly hours are 12 p.m. to 7 p.m. Monday-Friday and 12 p.m. to 5:30 p.m. Saturday and Sunday.