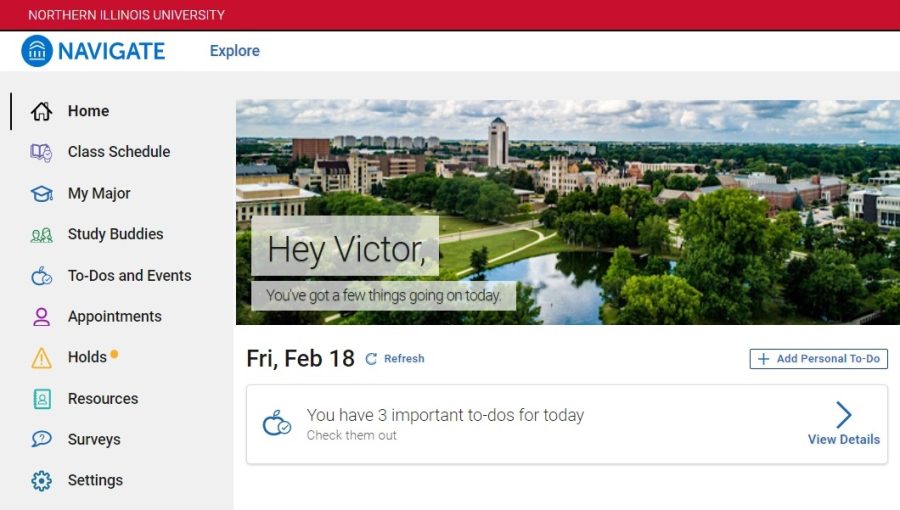 Courtesy of Brandon Lagana
DeKALB — NIU launched Navigate Student on Feb. 15 to encourage student success, make it easier for students and faculty to connect and improve graduation rates. Students can access Navigate Student through the App Store, Google Play or the web. 
The software has multiple tabs including information regarding students' majors and minors showing average salaries and what kind of jobs are available with that degree, class schedules, study buddies to form study groups with classmates, create appointments with advisors or other faculty and more. 
"I think the inspiration (for the app) was students' success and how do we connect students with their academic advisers, with their faculty and with one another in ways that really set them up for success outside of the classroom as well as the inside (of) the classroom," Director of Navigate Brandon Lagana said. 
There are similarities between Navigate Student and MyNIU, but Navigate will not replace MyNIU. 
"When you think about Navigate Staff and Navigate Students, so these are designed for academic advisers to connect with students and for students to connect with their advisers," Lagana said. "And it also allows for faculty to inform advisers and students about those who were in need of additional support, so it's all designed is for helping students to move through the various things that you need to do to stay successful and to continue on and stay on track for graduation."
MyNIU provides information like your schedule and a listing of important things that need to be done, but Navigate Student provides the tasks along with key dates and the links needed to complete them, Lagana said. 
The app also can help students connect with the resources needed to stay successful while tackling school, extracurriculars and other outside responsibilities. 
"If a faculty member notices, 'now Brandon hasn't been going to class lately' and they issue an alert within the Navigate system, then that connection point goes out to a variety of different offices across campus that may be able to follow up and assist that student and reach out and say, 'you know your faculty member shared that you're not going to class, can you help us understand why,'" said Nichole Knutson, Associate Vice Provost for student success. 
One of the features of the app is study buddies, which allows students to either join a group or create a group when they need help with homework or want to form a study group for an upcoming test. 
When someone starts a study buddy, a notification is sent to everyone who is in the class' student email regardless of whether they have logged in to Navigate Student before or not. Students can choose to connect and then start working together, Lagana said. 
Another aspect that can help enhance students' experiences at NIU is by answering surveys through the app, in which students will be sent a notification once there is a new one. 
"We ask students to report on needs that they have, would they like to be contacted by some of the different service areas that we have on campus by some of the centers, and we use that information to then follow back up with the students, so again the student who is sharing with us, 'here are needs I have, here are stuff I'm interested in,'" Knutson said. "And then we're able to proactively reach back out to the students and say, 'you shared with us that you would like information on these things.'"
Lagana recommends that all students download the app since he wishes he had something like this in college, so he didn't have to rely on his roommate for information.