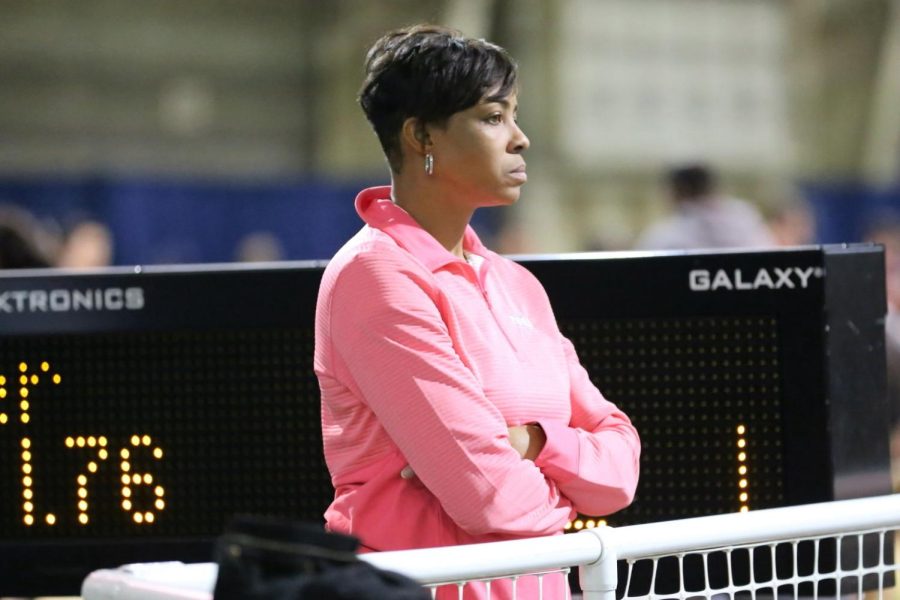 Courtesy of NIU Athletics
Director of track and field and cross country Connie Teaberry has a long list of accomplishments as a former student-athlete and a coach. 
TRACK AND FIELD CAREER BEGAN
Teaberry got started in track and field when she joined her school's track and field team in 6th grade. She would continue her track and field career at Lutheran High School North in St. Louis, Missouri, where she won at state for the high jump.
Not only did Teaberry run track and field, but she also played basketball in high school. Junior year, she tore her ACL and meniscus going for a rebound. 
"Lateral movement became a problem for me when playing basketball, but it didn't with track and field because I'm just running straight forward," Teaberry said. 
With the aid of a knee brace, Teaberry would continue playing basketball her senior year of high school, receiving scholarships from Kansas State, Louisiana State and the University of Iowa. Despite this, she still chose track and field.
"When I ran summer track, I started to love track and field even more," Teaberry said. "I loved basketball, but I loved track and field even more."
COLLEGE CAREER
After high school, Teaberry attended Kansas State University in Manhattan, Kansas to continue her track and field career. She was a six-time All-American in the high jump, with her high jump at the 1992 Big Eight meet remaining the third-best outdoor high jump in the school's history. 
She graduated from college with a bachelor's in life science and pre-nursing. 
OLYMPIC CAREER
Teaberry was on the USA world Championships teams in 1993 and 1995. She was also on the 1996 Olympic teams. She finished second in the high jump at the 1996 Olympic Trials, which allowed her to qualify for the U.S. Olympic team for the summer games in Atlanta. 
"My experience at the Olympics was great because my family, friends, past coaches, and teachers got to see me perform in our country," Teaberry said. 
COACHING CAREER
Teaberry's first coaching job was at Arizona State University. After that, she coached at the University of Toledo and the University of Kentucky. 
She took a break from coaching in 1995 and worked at Enterprise Car Rental. After being at Enterprise for some time, she knew that she wasn't supposed to be there for the rest of her life. 
"The Lord put in my mind that I'm not supposed to be there, I'm supposed to help coaching student-athletes and help them get their degree," Teaberry said.
She began coaching the University of Ohio, but she only worked there for four weeks before leaving to coach at NIU. 
During Teaberry's 18 years at NIU, track and field has broken 118 school records, won 35 MAC titles, and sent seven individuals to the NCAA Championships. 
Teaberry was named the Mid-American Conference Coach of the Year in 2020, which she credited to the athletes and coaches on her team at the time. 
"She's a great coach and has great leadership skills," cross country head coach Jamie Moreno said. "She shows that she genuinely cares about her student-athletes."
GOALS FOR THIS PROGRAM
Teaberry said that her main goal for this program is to make sure student-athletes chase their academic and athletic goals.
"To see players achieve their goal and smile while doing it is very rewarding to me," Teaberry said.