NIU football builds bond with Rockford teen
Kayden Wacker-Gray's relationship has become a bond with him and NIU football
Although Kayden Wacker-Gray never took the field during NIU football's worst-to-first season in 2021, the Rockford resident established a different type of presence on the team in their journey to a Mid-American Conference title.
Kayden, a 14-year-old diagnosed with epilepsy, mild cerebral palsy and autism, had the opportunity to spend time up close with the Huskies football program thanks to a collaboration between Team IMPACT and NIU.
"I got to go to the practices, bang the drum and go to the games," Kayden said.
Team IMPACT is a nonprofit organization that "tackles the emotional trauma and social isolation experienced by children facing serious illnesses and disabilities by matching them with a college athletic team." Kayden's mother, Lacey Wacker-Gray, did the initial legwork when reaching out to the program.
"We actually saw another group of kids that worked with Beloit College on the news," Gray said. "I looked the website up on the news and that's when we just registered and then they just matched us with NIU."
From there, Team IMPACT spent a few months making arrangements with Dan Wolfe, the assistant director of football operations at NIU. Once the details were settled, NIU was able to bring Kayden and his family to DeKalb for a visit.
"You could tell when we first met him and first started talking to him that he was very quiet, very shy," Wolfe said. "He didn't want a whole lot to do with the interaction."
It wasn't long though before Kayden began to open up around the team, becoming increasingly close with players such as redshirt sophomore offensive lineman Marques Cox and sophomore linebacker Nick Rattin.
"As he got more comfortable with us, you could see him liven up," Wolfe said. "He started bringing his actual hockey stick and his straight pucks down to meet us after practice. He'd sit out there with Nick and Marques and I and play hockey, which is his favorite sport. After a couple weeks of doing that, he started buying football stuff and his favorite sport is now football."
Kayden makes the cut
Before long, Kayden became an honorary member of the NIU Huskies football team.
"In the middle of the spring, we kind of made a signing day thing for him," Wolfe said. "We gave him a jersey, made him officially part of the team and basically invited him to all the games from this past season."
As part of his arrangement to attend NIU football games, Kayden was present for NIU's 41-23 victory over Kent State University at the MAC Championship Game on Dec. 4 in Detroit, Michigan.
"That was cool seeing him on the sidelines and him being on the field," Rattin said. "When we won, it was definitely cool for us, but I know it meant a lot to him."
Kayden's trip to Michigan's capital also offered another perspective of the MAC title game.
"The MAC Championship Game was really fun," Kayden said. "I got to go to Detroit and see over the Detroit border and look at Canada."
After being tabbed to play in the Tailgreeter Cure Bowl against Coastal Carolina University, neither the Huskies' nor Kayden's season was over yet. Kayden made the trip from Rockford to Orlando, Florida, to watch NIU compete in its first bowl game since 2018.
Growing through newfound community
During the course of the season, Kayden's mom believes that his experiences with the players and team personnel have helped his personal development.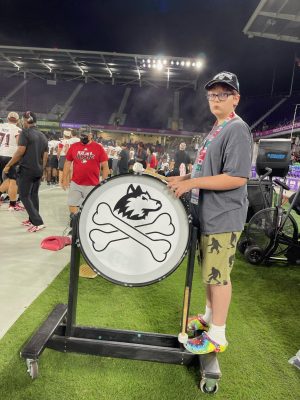 "I've noticed Kayden's come out of his shell a lot more," Lacey said. "They're super accepting of his disability. They actually found activities for him to do. Rocky (Lombardi) has similar stretches to what Kayden has to do in PT, so Rocky kind of encouraged him to do his stretches."
Wolfe also noticed Kayden's progress since joining the team in the spring, noting his growth on a personal level.
"I've noticed he's come alive," Wolfe said. "In the past year, I feel like he went from being a kid to being a teenager. We've been along for that ride and he thinks of us as good friends. I'm the same age as his mom, so he's calling me Uncle Dan."
As much as the football team affected Kayden, Rattin believes Kayden had a similar influence on him over the past several months.
"He's taught me a lot about becoming comfortable in your own skin," Rattin said. "Looking at it from a different perspective, it just seems like you can make an impact on a kid in the littlest ways. Maybe you think it's a little way, but for him, it means the entire world that he gets to hang out with college football players. We're like superheroes to him."
While programs similar to Kayden's might limit the duration of these types of experiences, NIU has approved for him to stick around.
"It's normally 18 months to two years for most people, but Dan (Wolfe) has said that we can stay as long as we want to," Lacey said.
With the 2021 season now in the books, Kayden will look forward to returning to the sideline as the Huskies will attempt to repeat their success this upcoming season.