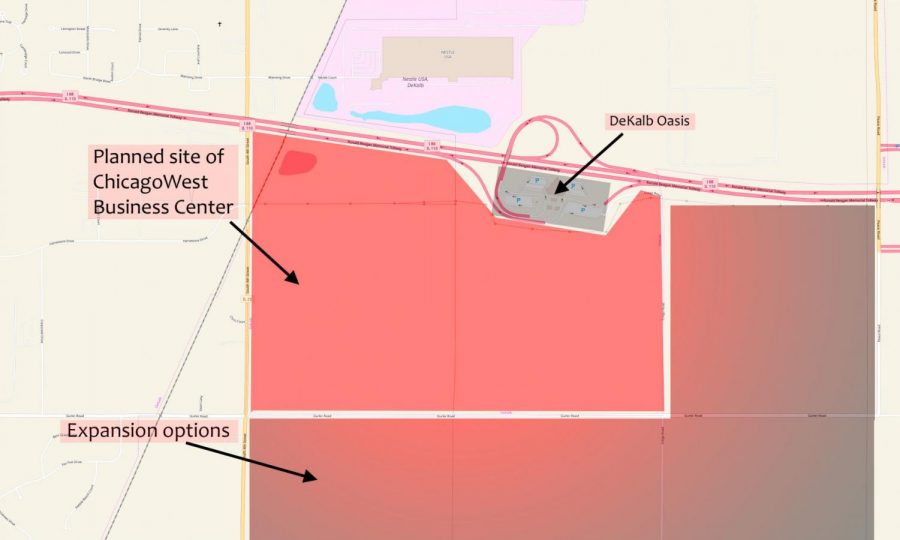 DeKALB — DeKalb Mayor Jerry Smith called the city's development of a distribution center for Ferrara Candy Company, owners of SweeTARTS, Fun Dip, Nerds and more, a "catalyst for even bigger and better things to come" for the city. 
The candy company plans to construct a 1.6 million square foot distribution complex in DeKalb. The distribution complex is set to be built on 106 acres of land in the ChicagoWest Business Park, a planned plot just south of the DeKalb oasis, according to a City of DeKalb and Ferrara joint news release. The distribution center is expected to be operational in 2021 and will bring an estimated 500 jobs to the area. 
Smith said the city expects housing to be purchased and built within the community for residents who may move to DeKalb.
"We're excited about the number of new folks that this is going to bring into the city," Smith said. "We're heartened by the fact that the work that we've done and the foundation that we've put toward economic development is really, really starting to bear fruit, and we couldn't be more pleased." 
City Manager Bill Nicklas said construction, such as the footing and foundation, has already begun on the distribution center.
"Despite the wintery weather conditions, they've been able to do this with due diligence," Nicklas said. "That means the project is off and running. [Ferrara] is very intent on building what they said they were going to build, and that's very encouraging." 
Mike Murray, Ferrara's chief operating officer, said the distribution complex represents growth for Ferrara and DeKalb. 
"This is an exciting time for our company," Murray said in a news release. "As our business continues to grow and our portfolio expands, we need additional space to match our ambition. The distribution capacity in DeKalb will allow us to continue to scale our network in the U.S." 
Nicklas said college students could qualify for many of the jobs that would be offered if they could work full-time.
"If a student can only work part-time, that might affect their ability to successfully land a job because they might only be looking for full-time jobs," Nicklas said. "There may be some part-time jobs or maybe seasonal jobs for summer. I think they'll do what they can to accommodate our local residents." 
Nicklas said Ferrara will not only bring a lot of good jobs to the area but it's also an investment that will bring in revenue for DeKalb's taxing bodies. 
"It shows confidence in what the city and our community offers," Nicklas said. "Because they're hiring, some of those people are going to settle here and maybe go to school here and find relaxation here so all those things are good for us."
At an Oct. 28 City Council meeting, council members approved an ordinance for a facility that would have created 1,000 jobs by the end of 2020, the name of the company hadn't been announced at the time. 
Council members at the meeting supported the ordinance, and Second Ward Alderperson Bill Finucane said he "welcomed the company with open arms." 
Residents had mixed feelings on the ordinance with concerns of feeling left out, but some also supported it because "the city needs the business, additional revenue and growth," DeKalb resident Dwayne Brown said.