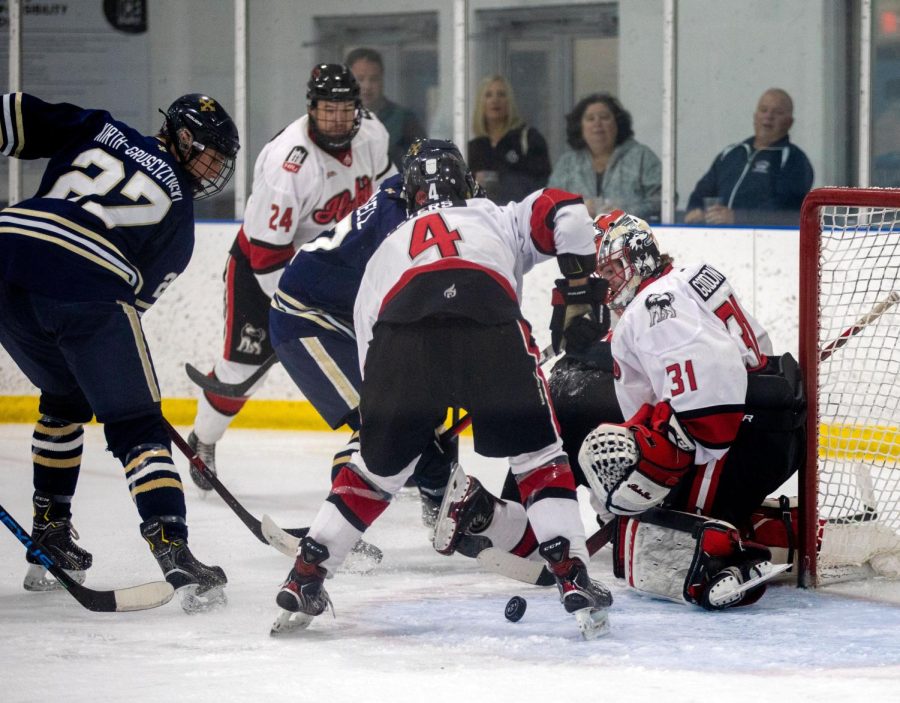 Beverly Buchinger
DeKALB – The Huskies hockey team (0-2, 0-0 MCH) look to bounce back from their season-opening series loss to John Carroll University when they take on the DePaul University Blue Demons (2-0, 0-0 NCHL) in a home-and-home two-game series Friday and Saturday.
The Huskies' defensive zone coverage was a catalyst for their season-opening losses last weekend. On the other side of the puck, the offense only found two goals in the two games. Senior defenseman Luke Marks described those factors as focal points at practice.
"We've really been focusing on defensive zone coverage, working on improving that." Marks said. "Improving our ability to score. Working on more odd-man rushes."
Head coach Brad Stoffers explained how the squad has been working on the defensive zone scheme and detailed what they need to do to generate offense.
"We talked about some of the defensive breakdowns," Stoffers said. "Taking care of the net front; the front of the house area (slot). So, I would say that was number one. Number two would be ways to put more pucks in the net … we're gonna have to score some goals by getting traffic. Getting guys in the goaltenders' eyes. Getting tips, rebounds, second opportunities and get goalies moving and try to capitalize on some chances there."
Both sides bringing the fire
The Blue Demons will bring high energy, as they opened their season with back-to-back wins against Bradley University last weekend. Stoffers said that every team plays with high energy this early in the season, and he expects his team to be ready for fast-paced, tightly contested games.
"They know we lost two games. They're probably looking at a chance to start 4-0," Stoffers said. "So they'll be excited … we're kind of at a point where we're still finding ourselves – trying to build off some stuff that we did well last weekend – so it should be a good series. I'm expecting a couple good games."
Marks believes the team's drive to prove doubters wrong will elevate their intensity level.
"We know they're gonna be coming out there, trying to prove something," Marks said. "we're going to be in the same boat, trying to prove something too. Trying to get our first wins of the season … show everyone that last weekend was a fluke and that we can actually play with some good teams."
What's next
The Huskies will meet the Blue Demons at Canlan Ice Sports in West Dundee at 7:30 p.m. Friday. They will then travel to Johnny's Ice House West in Chicago for game two of the weekend set at 4 p.m. Saturday.
NIU students get free admission with their OneCard. Anyone age 18 or under who wears a youth hockey jersey to Friday's game will also receive free admission. Tickets are $5 and will be available to purchase at the door.