MAP grant funding was much needed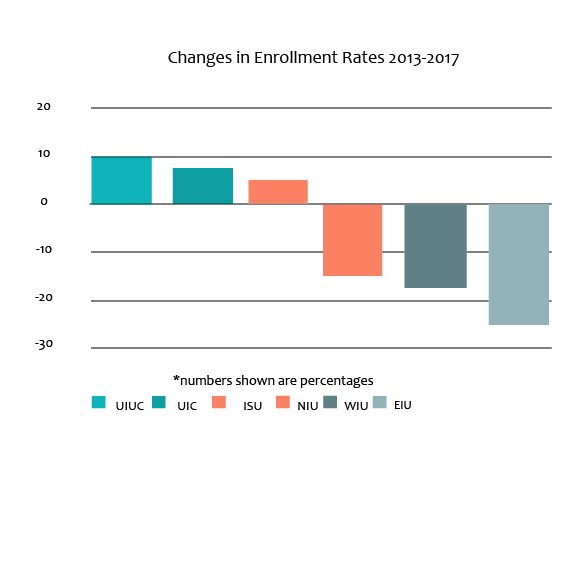 It is imperative Illinois policy-makers continue prioritizing higher education since it will help not only students, but the recovering economy as well.
Illinois high school graduates over the past decade have been choosing to attend out-of-state colleges over four-year Illinois colleges. While there are many contributing factors in deciding where to pursue a degree, most Illinois students find cheaper offers elsewhere.
In 2000, 17 percent of high school graduates left Illinois for college. By 2017, that number increased to 46 percent.
Illinois has the second-highest number of college students who leave to pursue higher education in another state, according to a Sept. 13 NPR report. The recent budget impasse hit colleges hard.
NIU has seen a 14.65 percent decline in enrollment since 2013, according to the 2018 Illinois Board of Higher Education Data. Other public colleges such as WIU with a 19.36 percent decline and EIU with a 28.08 percent decline have been affected more steeply.
In Gov. J.B. Pritzker's first budget address Feb. 20 discussing this decrease, he committed to increasing higher education spending. His plan involves allocating $375 million toward school funding, according to a Feb. 21 WGEM article. The number includes $55.2 million in additional funding for public universities and $50 million for Monetary Awards Program grants.
MAP grants consist of state-funded aid for low and moderate income college students. In 2018, Illinois students attending public colleges were awarded $188.8 million. Students attending private colleges were awarded $150.6 million, according to the Illinois Student Assistance Commission. Over 200,00 under-resourced Illinois students rely on MAP grants to fund their education.
"A lot of NIU students are MAP grant recipients," Ian Pearson, legislative director of SA and president of the College Democrats, said. "My involvement has been working on a list of legislative priorities for the NIU student body, and advocating that MAP grant funding remains strong. It's really important we protect that source of funding for them."
The significance of MAP grants in Illinois has decreased as inflation increased, and money once allotted to the grants' funding has not followed the needs of Illinois students who rely on state-given awards. The problem in Illinois is that education funding has remained stagnant under previous leadership, and the budget impasse dealt a heavy blow to universities.
As a result, graduating without a large amount of loan debt is difficult because universities cannot afford to hand out a lot of financial aid to those without sufficient need. If students know they can afford a higher education in Illinois with financial aid packages containing more MAP allocations, it makes them more likely to attend.
"I would not have been able to afford to come to NIU, live on campus and pursue all the things I am pursuing academically without financial aid," Wynn Sontag, junior electrical engineering major, said.
An increase in MAP spending will take pressure off universities, and students will be able to get more money to afford pursuing higher education in Illinois — achievements which will universally benefit both in-state universities and residents.