NIU football looking ahead to full 2021 season
DETROIT — For the second year in a row, the Mid-American Conference Football Preseason Media Poll has voted NIU to finish last in the West Division.
Ball State University, the 2020 MAC Football champions, were selected to repeat as West Division and overall conference champions. Kent State University is the slim favorite in a stacked East Division with four of the six teams receiving first place votes.
The voting culminated Tuesday at MAC Media Day at Ford Field in Detroit. Coaches and players from all 12 teams in the conference attended, including NIU Head Coach Thomas Hammock.
Coming off a season with a delayed start followed by a winless 0-6 season, Hammock has been relishing in a somewhat normal offseason of camp to develop a team that has 31 "COVID" freshmen returning for their true first full season.
"It's been great to get back to a traditional model of preparing a team for a football season," Hammock said. "That development has been greatly missed, especially when you have to have as many young guys playing as we had last year. When you go through the grind of an offseason, it makes you appreciate the game that much more. I think our young men understand that."
Sixth-year senior center Brayden Patton said a more relaxed COVID-19 protocol means there are more chances for team building, as opposed to splintered off training groups.
"It's good to have everyone back together because now we have normal lift groups and it's not 10 guys coming in here and there," Patton said. "We can focus more on our work and our training again, and we can do some of the fun activities again."
COVID-19 is still a main priority of the conference, as made evident in MAC Commissioner Dr. Jon Steinbrecher's press conference. Steinbrecher touched on a number of topics related to college athletics, but highlighted COVID-19 as an issue programs will still need to address.
"
When you go through the grind of an offseason, it makes you appreciate the game that much more. I think our young men understand that."
— Thomas Hammock
"We are not through with COVID-19," Steinbrecher said. "I can not emphasize enough the importance of coaches, student-athletes and, in fact, all of us being vaccinated. The delta variant is exceptionally dangerous and those of us not vaccinated are at the most risk."
The MAC will not require student-athletes or coaches to receive the COVID-19 vaccine, nor will they reschedule games that may be potentially cancelled if a team doesn't have enough players available to play due to the virus. Non-vaccinated athletes will continue to be included in testing protocol, while vaccinated athletes are still subject to quarantine if they come in close contact with someone who has the virus.
NIU Athletics reported last winter that the team had no positive tests over the course of their shortened season and Hammock said the team is taking a serious approach to getting vaccinated.
"COVID(-19) is still very active," Hammock said. "I'm very happy with the commitment that our team has made as far as getting the vaccine. They've taken the vaccine very seriously and understand the benefits from a health and safety standpoint, as well as a football standpoint."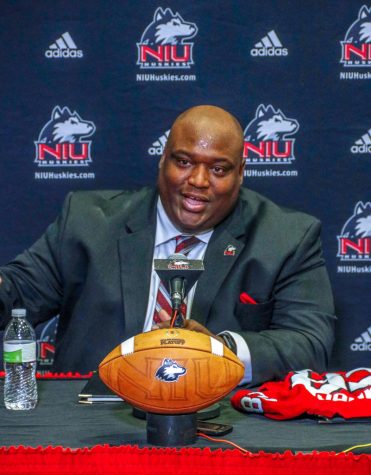 In terms of on-the-field work, Hammock had a lot of praise for two new Huskies quarterbacks, Michigan State transfer and redshirt junior Rocky Lombardi and freshman Ethan Hampton. Hammock said Lombardi and Hampton have been trusted with running seven-on-seven drills and have quickly shown their commitment to learning a new playbook.  
"You notice (confidence) with the type of questions they ask," Hammock said. "When you're asking what the tight ends are doing, what the offensive line is doing, how deep a route is, that means they have a good understanding of not only their job, but everybody's job."
NIU recently added two new transfers from Youngstown State University, redshirt junior tight end Miles Joiner and junior running back Braxton Chapman. To Hammock, versatility is what stands out for the tight end from Dayton, Ohio.
"(Joiner) is a big tight end," Hammock said. "He can run-block and catch passes. To get a tight end with that type of versatility, it's someone you want to get involved in your whole game plan."
Hammock said the addition of Chapman will help the depth of a stacked running back core with the likes of freshman Harrison Waylee and junior Erin Collins.
"We want to run the ball and we understand that, with running the ball a lot, injuries are going to happen," Hammock said. "We want to make sure we can withstand and withhold. There may be games where we run the ball 50 times and we need depth."
The Huskies are now just over six weeks away from their opening game of the season, a Sept. 4 non-conference road trip to Atlanta to face the Georgia Tech Yellow Jackets.