Billie Eilish releases new video for climate change awareness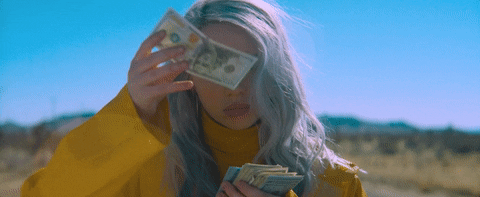 Billie Eilish dropped her music video for "All the Good Girls Go to Hell" Sept. 4, directed by Rich Lee and produced by Drive Studios. In a unique yet haunting fashion, Eilish ponders a necessary message regarding climate change for young fans. 
In the video, after Eilish is stabbed by several needles at once, angel wings develop and emerge from her back. While falling from the sky, she becomes demon. Eilish lands in a massive hole in the ground and rises from the black water enveloping her. 
This hole could symbolize the immense impact humans' habits have on the earth like releasing fossil fuels and failing to recycle. Everyday objects such as plastic straws may seem insignificant—weightless in the grand scheme of things—but cumulatively, the earth takes a big hit. Eilish highlights that hit, though many remain unconvinced. 
The black water is what earth's water will become: ridden with toxins and undrinkable—incapable of nurturing life. These possibilities do not exist yet, but when Eilish roams around them as though they already do, it sends an urgent message. This is suddenly an issue taking place now, not later. 
Cue the music and Eilish walks unstably towards the camera with fire surrounding her. Her wings catch fire but she continues, only to turn back towards the fire after singing the words, "there's nothing left to say." 
Although Eilish used minimal visuals, condensing a wide issue, the visuals she used in her short music video nonetheless turned up the volume on awareness for climate change. 
If climate change control falls out of leaders' hands, and plans fail to be formulated to reverse Earth's end, the repercussions will be deadly and there truly will be nothing left to say. Everyone will be walking amongst fires, and Eilish does a good job of communicating that. 
In the description of her YouTube video, she raises awareness for climate change and what currently happening at a fast pace, urging her fans to take action in anyway they can and reverse climate change.
"The earth is warming up at an unprecedented rate, icecaps are melting, our oceans are rising, our wildlife is being poisoned and our forests are burning," Eilish says. 
"On Sept. 23rd, the UN will host the 2019 Climate Action Summit to discuss how to tackle these issues," Eilish says in her video's description. Linking fans to Global Climate Strike, she advises them to use their voices Friday Sept. 20 and Friday Sept. 27.