Board closes out fiscal year with budget, degree program approvals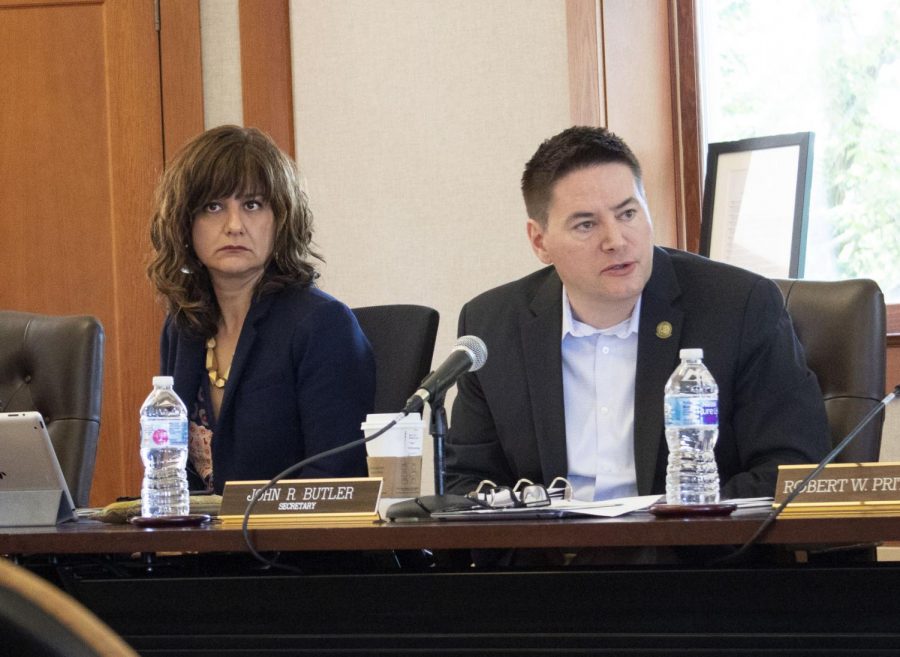 The Board of Trustees met last Thursday to close out the 2019 fiscal year. The board passed the internal budget and approved attorney Brian Perry as general counsel, along with other items of interest.
Budget
The board passed President Lisa Freeman's internal budget. Chair Dennis Barsema said the budget narrows deficit spending to $5 million from last year's $8 million.
Differential fees
Differential tuition will be covered for faculty and staff taking classes at NIU. Employees have access to an institutional waiver that covers a portion of their tuition in undergraduate and graduate programs.
Starting fall 2019, the waiver was not going to cover a portion of tuition, as high as $400 per credit hour for some graduate programs.
The board passed an amendment to the board regulations related to educational benefits of faculty and staff that clarifies the waiver covers differential tuition.
Holly Nicholson, operating staff council president, said the council was approached by constituents who decided not to pursue a degree after they learned their employee waiver did not cover differential tuition.
Freeman commended the amendment as an example of shared governance.
"Fiscal impact pales in comparison with the benefit to the university in being able to advance and retain talented employees," Freeman said.
General counsel
Attorney Bryan Perry was appointed general counsel, effective July 1, replacing Acting General Counsel Greg Brady. Perry served as general counsel and chief of staff at Baltimore Community College.
The Office of General Counsel provides legal advice to the university and hires external legal representation when required.
In a statement to the board, Perry called Freeman a "visionary leader" and said, "education is everything."
IT contract updates
Chief Information Officer Matt Parks presented contract renewals and an update on an ongoing WiFi upgrade.
The board approved phase three of a WiFi upgrade for $425,000. The upgrade includes approximately 650 WiFi access points to increase coverage in campus buildings, including Neptune Hall, according to the board report.
A three-year, $4.8 million contract with Oracle Corporation for hardware and software was approved. Parks said the university has the choice to upgrade the university's hardware or move to Oracle's cloud-based system. Either way, the board anticipates saving $400,000, according to the report.
A $400,000 contract with Cisco Systems for network and security maintenance and a $800,000 contract with Ciena for hardware maintenance were approved. Ciena services NIUNet, a fiber-optic network that serves as a source of revenue for the university.
Degree programs
The board approved all of the degree program additions and deletions recommended at the May 19 Board of Trustees meeting. Included are the three Ph.D. programs in the school of engineering.
Trustee John Butler said new Ph.D. programs are generally a sign of positive change at the university.
"This is a really big deal in the milestones of the university," he said.
The creation of at least one doctoral program in the college of engineering and technology was one of Freeman's 2019 goals.
Marketing plan
Additional funding for media buying services was approved as the five-year plan with advertising agency Hambrick & Associates — approved March 2017 — enters the Strategic Enrollment Plan phase.
The initial plan was to keep expenditure under $2.4 million over five years, beginning fiscal year 18. Vice President Sol Jensen said they'll exceed that by the end of this fiscal year, so the board increased their limit to $3 million to continue investing in advertising campaigns.