Spring football heats up with full speed practice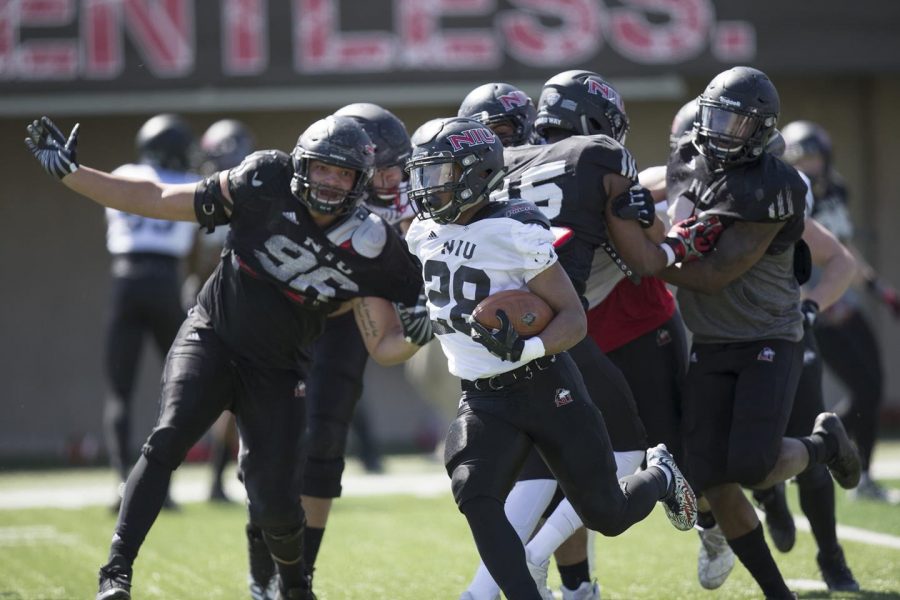 DeKALB — The football team got their first chance for full contact practice Saturday under new Head Coach Thomas Hammock.
In front of dozens of fans that came to see the scrimmage at Huskie Stadium, the offense and defense played over 70 snaps of live football in an attempt to get a better sense of how players perform in a game-type situation.
The 37-year old Hammock said it was good to finally gave the players a chance to play at full speed.
"Now when it's live, you can thoroughly see a guy get taken to the ground or where the play stops exactly," Hammock said. "I think we got a good evaluation of guys who can turn a four yard play into six yards or a defense that's ready to take a guy down."
The star group of the afternoon was the defensive line, consistently finding a way to get to the quarterback.
The lineup was anchored by returning starters such as senior defensive tackle Ben LeRoy and junior defensive end Matt Lorbeck. The group is under new direction from defensive line coach and recruiting coordinator Jordan Gigli.
Hammock said one group playing well will push others to match them, making everyone better.
"Our defensive line is doing a great job," Hammock said. "What I tell our offense [how much] better our defensive line plays and the better they practice, [it]  will only make us better as an offense. They will force you to compete and play at a higher level and force yourself to strain harder and longer to make plays."
The early emphasis of Hammock's first spring as the leader of NIU football has been competition, stating in March that every starting position is open. Hammock believes putting pressure on his players now will help the team down the line.
"These guys know they're fighting for jobs," Hammock said. "We're going to put them in intense situations to get them game ready and that's what being in the game is like. We want to be stressed now so we're not stressed on Saturdays."
Before the scrimmage, Hammock and players got the chance to interact with fans in a morning meet and greet outside Huskie Stadium.
Hammock, a former Huskies running back himself, enjoyed the chance to reconnect with the community and hopes the team has more opportunities like it later in the season.
"We're going to keep extending ourselves to the community and to the school," Hammock said. "When I went to school here, we knew students on campus and I think when people know you as a person, I think they're going to support you as a player."
Fans will get another chance to see spring football 1 p.m. April 20 at Huskie Stadium, when the team hosts their spring scrimmage, the Huskie Bowl.