Hammock era begins with first spring practice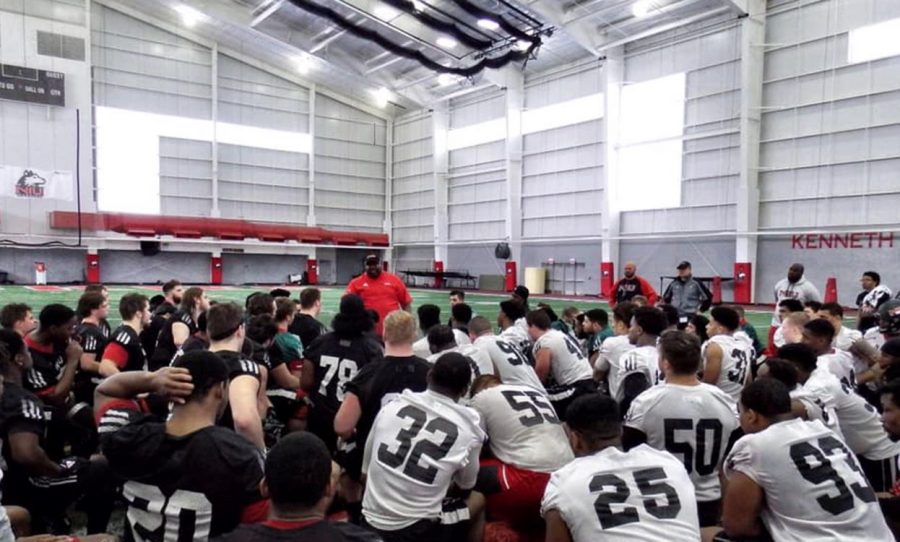 DeKALB — The football team took the field Saturday at the Chessick Practice Center for its first practice under Head Coach Thomas Hammock and his coaching staff.
The practice was the first of spring training camp, which is scheduled to include 15 practices from late March to late April.
Hammock spoke at a news conference Wednesday and said this time of year is key for improving his players.
"This is a developmental program," Hammock said. "We have to pride ourselves on developing players. We may not get the same type of kids some other programs get, but we can certainly get the same product if we develop them."
Practicing with pads and helmets gave Hammock his first chance to evaluate his team firsthand. Hammock said the expectations have been laid out for the players.
"We want guys to optimize what it means to play like a Huskie," Hammock said. "We want them to be fast, smart, physical, relentless, and we want them to appreciate what goes into being a part of the 'hard way' mentality."
The Huskies are coming off a Mid-American Conference Championship win over Buffalo in November but enter 2019 with a completely modified staff after former Head Coach Rod Carey took the same job at Temple in January.
Even with the title win, Hammock said no starting position is set in stone and that change means building from the ground up.
"It's hard to walk in a room with guys you haven't worked with and say, 'We're not going to start from scratch,'" Hammock said. "Competition is important, and everybody's job is open. We don't want to have any preconceived notions."
Redshirt-junior tight end Mitchell Brinkman said Wednesday there's no panic among the players. Brinkman believes everyone on the team is already wired to compete.
"We're all competitive athletes here, so I think when he said that, we were all smiling and ready to work," Brinkman said. "It's just best for the team."
Starting from scratch is nothing new for redshirt-senior safety Mykelti Williams, who is now under his fourth different staff in his collegiate career after having previously played for Notre Dame and Iowa Western Community College.
Williams said he thinks the players are starting to adjust well to the staff and feels ready for spring practices.
"It's going really well," Williams said. "The coaching staff has done a great job of preparing us for spring practice, and we're getting well acclimated to the way they do things."
No group of players may be more excited to get on the field than the returning running backs, junior Tre Harbison, senior Marcus Jones and sophomore Jordan Nettles. The group will now get to learn under Hammock, who is a former Huskies running back.
Jones said he's already excited to learn from Hammock, who is fresh off a five-year stint coaching running backs in the NFL with the Baltimore Ravens.
"I was ecstatic," Jones said. "I'm trying to be a sponge right now and absorb everything the coaches are giving me. Everything he's been through, I'm trying to go through it."
The team is scheduled to hold two public practices in April.
The first open practice, a scrimmage, is scheduled for April 6 at Huskie Stadium and will feature a meet and greet for students and fans to meet Hammock and several players.