DeKalb Police have changed their way of communication since Feb. 14, 2008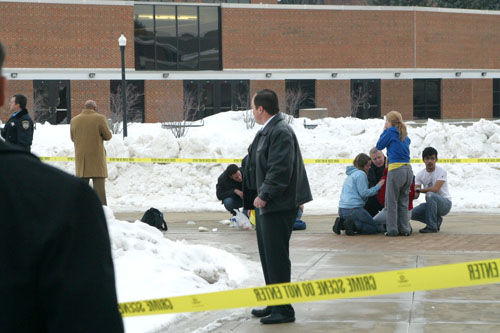 DeKALB| Safety Response is a two-part series that will look at how NIU and DeKalb has changed the way it protects students and approaches crisis situations 10 years since the Feb. 14, 2008, shooting.
A former NIU student opened fire on students Feb. 14, 2008, in Cole Hall, prompting an immediate response from NIU Campus Police and the DeKalb Police Department.
It was reported by WGN at the time that NIU Campus Police responded within seconds of the first 9-1-1 call.
University officials credited their fast reaction time to a crisis plan they already had in place .
"We had a plan in place for this sort of thing," said former President John Peters in a Feb. 15, 2008, press conference.
"Our university police had practiced that plan. They showed that yesterday in the speed and professionalism of that response."
The DeKalb Police Department and NIU Campus Police were not alone in their response.
Police from nearby districts, Illinois State Police and the Federal Bureau of Investigations were also among first responders, as well as medical staff to attend to the injured.
Jason Leverton, DeKalb Police Department commander, said a problem that came with the quick response from so many different departments was the amount of responders on the scene and lack of clarity about who was in charge.
"There will always be enough responders, that's not the problem," Leverton said. "The problem is the organization. 'Who is in charge of what?"
What helped solve organizational response issues was the National Incident Management System, a program established in 2004. The program was developed by the Department of Homeland Security and is intended to "provide a consistent nationwide template" for partnerships to help respond to and recover from the effect of large incidents, according to an Oct. 10 Homeland Security report.
"What's really better now is the communication, especially between departments," said Steve Lekkas, DeKalb Police Department Patrol Division commander. "It was so chaotic."
Since the shooting, Lekkas said the DeKalb Police Department has joined the Illinois Law Enforcement Alarm System, a group that connects departments from all over the state in case of an emergency event.
"This can be used for anything," Lekkas said. "There could be a major accident where we need help closing down the road or a chemical spill where we may need help evacuating people. We can request a dozen officers and different agencies that are our partners would send them here from all over Illinois."
Communication by phone lines are better too, Leverton said, as cellular providers can "open up more access" to the phone lines. Leverton said on the day of the shooting it would take hours just to make one phone call because the lines were so crammed with callers to the station.
Leverton said a change has been made to the technology the police force uses, transfering communication over to a digital radio system from the previous 'VHF' radio system.
"The advantage there is that there are multiple digital channels that can be used so that communication can go out more smoothly without people stepping on each other over the air," Leverton said.