CFO Sarah McGill looks forward to 'strengthening' NIU's financial position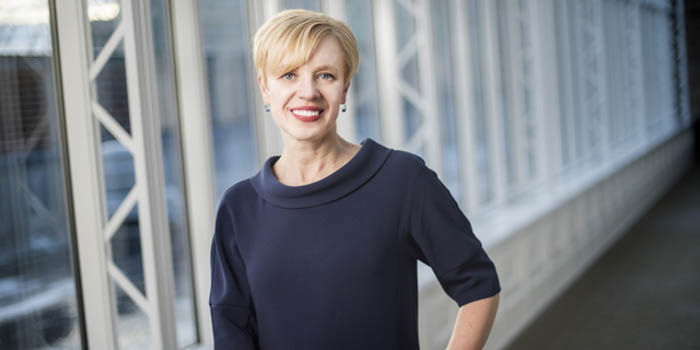 Sarah McGill said when she saw NIU was looking for a new chief financial officer, there was something about the university that reminded her of her roots.
McGill was selected as the chief financial officer in November, according to a Nov. 6. NIU press release. She assumed her role at the university Jan. 1.
McGill said the university's mission of student access to an affordable education really spoke to her because it aligns with her upbringing and what she finds important.
"Sarah's appreciation and understanding of all aspects of the university's mission will make her an asset to NIU as we continue to work toward fiscal sustainability and alignment of our budget with our mission," acting President Lisa Freeman said in a Nov. 6 NIU Today press release.
With more than a decade of experience in Illinois higher education, McGill has seen the changes in the state over the year brought on by impasses in budgeting.
McGill said she can only focus on what she can control.
"I really want to align out resources to the priorities of Northern Illinois University," McGill said. "I want to really focus on thinking about strengthening the financial position of the university and how we serve out students and our faculty."
McGill said one thing that has pleased her so far at NIU is seeing how much effort goes into making NIU better for everyone.
"I'm coming in at a time where I can see that there is a lot of great energy going toward looking at the priorities of the institution," McGill said. "To come in at a time working with President Freeman, joining this team, that has been a very enjoyable piece of the last few weeks."
McGill's being selected as the chief financial officer is one of many changing administrative positions in the past few years. Several positions have been vacated including the university president, university vice president and policy librarian, among others.
McGill said she understands the search for a new permanent president will begin soon and anticipates some changes, but all she can do is work on what's within her control.
"I came in knowing what could potentially be before us," McGill said. "I am excited to join President Freeman's team and work with the team that's in place."
McGill earned her bachelor's degree in science, speech pathology & audiology from Marquette University in 1999. She earned a master's degree in 2006 from Cardinal Stritch University for business administration, and in 2015, she received a certificate of completion from the Institute for Management and Leadership in education.
Before applying to her current position at NIU, McGill worked at Northwestern University as the senior associate dean at the Graduates school. She also worked as chief financial officer. During her tenure as a dean at Northwestern, McGill managed an annual $115 million budget for 4,000 graduate students over six schools and 80 programs.
McGill said the type of work she did at Northwestern as CFO can be put to use at NIU as well.
"Previous institutions have prepared me to come in and really contribute," McGill said.
A spokesperson for Northwestern University did not return a request for comment.