Female leaders take spotlight on campus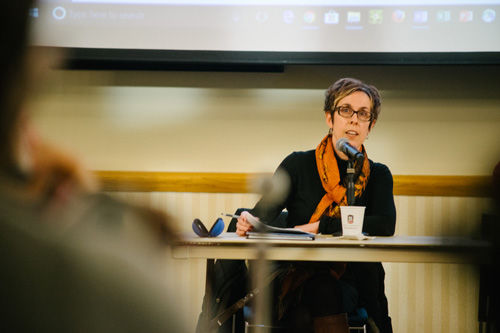 DeKALB — Representatives of shared governance groups had already been elected by their councils when it was announced acting President Lisa Freeman would take office July 1, making for NIU's first entirely female leadership team.
Shared governance groups have an elected representative that speaks on behalf of the five main sectors of the university. The groups include the Office of the President, Faculty Senate, Supportive Professional Staff Council, Operating Staff Council and Student Association. Shared governance allows faculty, staff and students the opportunity to voice their concerns and discuss different issues that impact the campus as a whole.
University president
Freeman began at NIU in 2010 as the Research and Graduate Studies vice president and was officially given the position of executive vice president and provost May 2014 after a national search failed to yield any viable candidates
Freeman became president after former President Doug Baker resigned.
Freeman said it's important to her that all of the university's constituents have a voice, especially when dealing with policies.
Freeman has worked with shared governance members in her other administrative positions by doing things like ensuring departments received needed supplies. She said being president is different from those earlier positions because it's more about working with other bodies to gain input on campus policy.
"When you're in the other role, while your interactions are more limited, they're also more in-depth because you're actually the one rolling up your sleeves and solving a specific problem related to lab coats or committee time," Freeman said. "Where as the president, you're working with the vice presidents and the constituents groups to determine how we should affect or inform policy."
All of the female representatives said they don't always talk business during their meeting and will at times hold conversations about their personal lives.
Freeman said she thinks having discussions aside from business is a good way to enhance communication within a group and build trust.
"I think that understanding what's going on in people's [lives], it helps you understand what they may be thinking about in the background, and it just builds a better bridge for communication," Freeman said.
Faculty Senate Council president
Faculty Senate President Linda Saborío said she ran for her position after being told it was too demanding.
"Everyone told me that it was very difficult to be Faculty Senate president, that it's more of a headache, so I took that as a challenge," Saborío said. "Don't present me with a challenge because I'll be like 'oh yeah; bring it on'."
Before taking her position as the Faculty Senate president, Saborío served as the Spanish Foreign Language Undergraduate Studies director.
The opportunity to lead a shared governance group was something Saborío never thought she would do, but she said it's rewarding .
"It's a privilege to represent faculty, and it's a privilege to work with the other shared governance members, who happen to be women who are all successful in their fields," Saborío said. "It was a nice surprise for me, really."
Saborio said when former President Doug Baker resigned, she initially didn't realize Freeman would be NIU's first female president. Saborio said she thinks Freeman has made a smooth transition and set herself an aggressive agenda since filling the presidential role.
"President Freeman has a way of instilling confidence in anyone who surrounds her," Saborio said. "She's an excellent public speaker. She sounds genuine when she speaks in public, and I think people tend to believe her, and I think that's what we need at this time."
Supportive Professional Staff Council president
Cathy Doederlein, Supportive Professional Staff Council president, said she left the university after she received her undergraduate and graduate degrees but returned in 2011 after working in the corporate world; she now works in Career Services as the Internships and External Relations director.
She served on the Supportive Professional Staff Council search committees and enjoyed representing the supportive staff and thought serving as shared governance representative was an opportunity to learn more about the university.
"I just decided I would throw my hat in the ring for the president position, and I was elected [to first serve] during the 2016 – 2017 academic year," Doederlein said.
Arthur and Sue Doederlein, the council president's parents, served the university over a few decades, Arthur as the Department of Communication Undergraduate Studies director and Sue as the College of Liberal Arts Undergraduate Studies assistant dean.
Doederlein said she hopes to carry on the Doederlein tradition.
"Having a leadership role within shared governance is something I saw my parents doing when I was growing up," Doederlein said. "So it's cool to be continuing in that path."
Doederlein said Freeman's position as the first female president at the university did not go unnoticed.
"It definitely had an uplifting effect, I would say, for women on campus in general just to see a woman be recognized for her leadership abilities and be asked to take on that role," Doederlein said.
Operating Staff Council president
Barbara Andree, Operating Staff Council president, said she was nominated for her position and felt she had enough experience to represent her council.
Andree, who earned her bachelor's degree at NIU, returned 20 years ago and is now the College of Education office manager.
She made it her duty to enhance shared governance among the civil service workers, which she said is at times difficult because some of the people she represents hold positions that are time sensitive.
"Most people who work in an office can set their work aside for a few hours, leave and then come back to it," Andree said. "But when you're in the building service workers sector, you usually have a very short amount of time to get things done."
Andree said Freeman shares her same focus of enhancing shared governance to create a more inclusive working environment. Andree hadn't worked with Freeman before being elected the Operating Staff Council president but was reassured by some of the individuals she knows who work in Altgeld Hall and knew Freeman.
"They basically said she's a very straight forward person," Andree said. "If she can do something she will, and if she can't do something, she'll tell you why not."
Andree said she thinks there's a good group dynamic among her and the other representatives of the other shared governance groups.
"I think it's powerful that the sidelight is that we all happen to be women, and we are all very dedicated to the success of NIU," Andree said. "Generally speaking, there tends to be more cooperation than competition in a group where you've got more women than men."