FAFSA filing period adjusted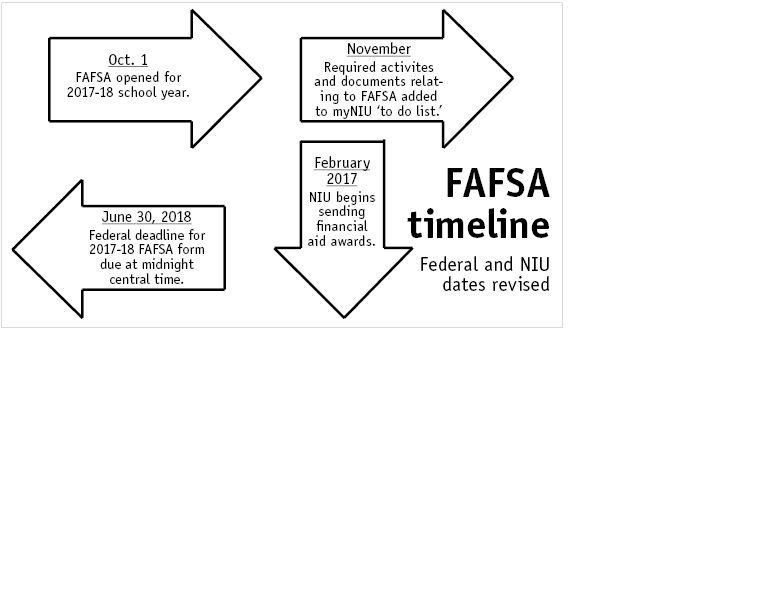 DeKALB | The Illinois Student Assistance Commission is declaring October as College Changes Everything month as a result of the new Oct. 1 opening date for FAFSA.
FAFSA is a form prepared and submitted by college students to determine the amount of financial aid they are eligible to receive from the government. FAFSA previously opened on Jan. 1 for the following school year, but the new date will align FAFSA with most college application deadlines, including NIU. This will allow future students to be aware of their financial aid before committing to a college, said Lynne Baker, commission director of communications.
"Students will have access to the IRS data retrieval service," Baker said. "Now, when you file, you can use prior-prior year taxes, which means when you're filing your 2017-18 FAFSA, you're using your 2015 taxes."
The commission's major initiative, College Changes Everything month, was created to help students adjust to these changes.
During October, the commission will partner with high schools to provide free services to students that will aid them in managing FAFSA and college applications. The initiative is also open to college students who need assistance in filing for their financial aid as the date change is implemented.
"The date change is good [for incoming students]," said sophomore mathematics major Kevin McNeely. "If there's a school [a student] really wanted to go to but they weren't sure if they were financially able, now they can see if they get the aid that will allow them to go to that school, and they can make a more informed decision."
McNeely was unaware of the FAFSA date change until recently and said he wished he had known about it sooner.
Heather Calvert, College Access and Preparations committee chair for the Illinois Association of Student Financial Aid Administration, said her organization is aware of this problem and is focused on informing students about the change. For NIU, this meant fliers posted around campus and online advertisement to students in an attempt to get the word out.
Calvert said the administration is an advocate for financial aid, and student awareness is key in such an important change.
"The early FAFSA date is something that has been talked about in the financial aid world for a long time," Calvert said. "But when it was announced last year, it all went into effect a little more quickly than I, and many others in the profession, expected."
One of the ways the Aid Administration has been advertising is by reaching out to high schools and colleges by providing toolkits on how to promote the new date change to students and why it is important.
The commission shares the same goal and is also trying to reach out to students to make them aware of the new opening date and other changes Baker said.
Calvert said while the new date may seem stressful to students now, it is a good thing. Students will no longer have to go back into their FAFSA in April to change their tax statements, and new students will have the ability to make a college decision based on their financial aid, because it will be received sooner.
"One of the most important things for students to know is that if there's a problem or if you have issues, your financial aid office should be able to help you along the way" Calvert said. "So if you get started and you're having a hard time, call the office, set up an appointment, and take advantage of those things, and be sure to ask questions because our goal is to help you get your financial aid filed and not be held back from your education because of a financial decision."