Men's tennis focused on MAC tournament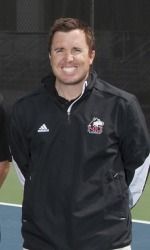 Men's tennis is off to a quick start to the season, going 10-4, and head coach Patrick Fisher has confidence in his team though he feels they can play a lot better than they have thus far.
The Huskies have won seven out of their last eight games and are coming along as the season progresses. They were 10-3 at this point in the season last year, finishing 18-6.
The Huskies are currently first place in the MAC and are on pace to make another run at a conference championship. Fisher spoke about how he assesses his team at the mid-season point.
Q: The team has a 12-day layoff before its next game against Marquette [University] on March 2. What is your overview of the team so far?
A: I think we're in as good of a position that we can be in. At times we've played without our top two or three players, and to be in a position where three of our four losses were 4-3, we were basically three points away from being 13-1.
Q: How proud of you are of the team being 10-4 even with all these injuries?
A: I think it speaks to the character of our team. I think it speaks to the leadership of our guys and just everyone taking accountability to step up and play at a higher level.
Q: How tough is it as a coach seeing your senior and leader Simon Formont not being able to play so far this season?
A: Obviously it's tough to be in a position like this. I just know it's really tough on him. Knowing Simon, I know he wants to play. I feel for him.
Q: How would you describe Carlos Manzanas' season since he's stepped up to the No. 1 spot in singles matches?
A: Carlos started the season off 1-4 in singles matches and he has since gone 7-0 in singles matches. He has made unbelievable strides and he is playing with a lot of confidence. As coaches, we knew what he's capable of, but a lot of it has to do with the team believing and him believing in himself. He has beaten some really good players over the past couple weeks. He used to play five and six, but now he's playing No. 1 and played No. 1 every match except for [the University of] Wisconsin where he played No. 2.
Q: This team is predominately filled with sophomores. What do you credit to them playing so well at young ages?
A: The sophomores, in regard to Georg Lundkvist, Carlos Manzanas, Louis-Philippe Hamel [and] Tom Hjertonsson, have been playing very good this season. Kevin Daun and Austin Russell have struggled a lot this season at the lower levels part of it because they don't quite have the same experience as the other sophomores, so lack of experience comes with a tougher time on the tennis court.
Q: Do you think Daun and Russell can turn it around?
A: Yes, I do believe that they can turn it around. They play extremely well at practice and really compete; however, when it's time for the games, it's a different atmosphere and different energy that they haven't quite adjusted to yet. With more experience I believe they will adjust.
Q: Hamel has been banged up for a good part of the season. How would you rate his year so far?
A: I think, because of the injuries, it sort of stunted his ability to get into any of his normal routines as far as practice. There's a lot of times when he's only practicing once and twice a week and that's not enough practice to build your game the way you want it. I hope with this extended time off he's able to recover and heal.
Q: You guys have played very well at home this season, going 10-3. Why do you think the team has been so successful at home?
A: I think every time you play at home it's worth at least one point. I think the credit goes to being familiar with your own court and even though technically we're not at home we play one hour away in Rockford. We have been comfortable since we've been playing there for six years.
Q: Is the team ready for conference play?
A: As of today I'll have to say no. We have to get healthy and if we can get healthy, yes. I think this extended break can be very valuable to us and we can use this to our advantage.
Q: This team you have this season is very talented. Do you believe that the guys can win the regular season and postseason MAC championships?
A: Western Michigan [University] is very good this season, but I think what we have to do is focus on making the tournament. Only the top four teams make the tournament and I think if we can find ourselves in the tournament, we have a shot just like any of the four other teams. The last five years the number one and two seeds have not won the MAC tournament.