No acting 'errors' in humorous 'Comedy of Errors' student production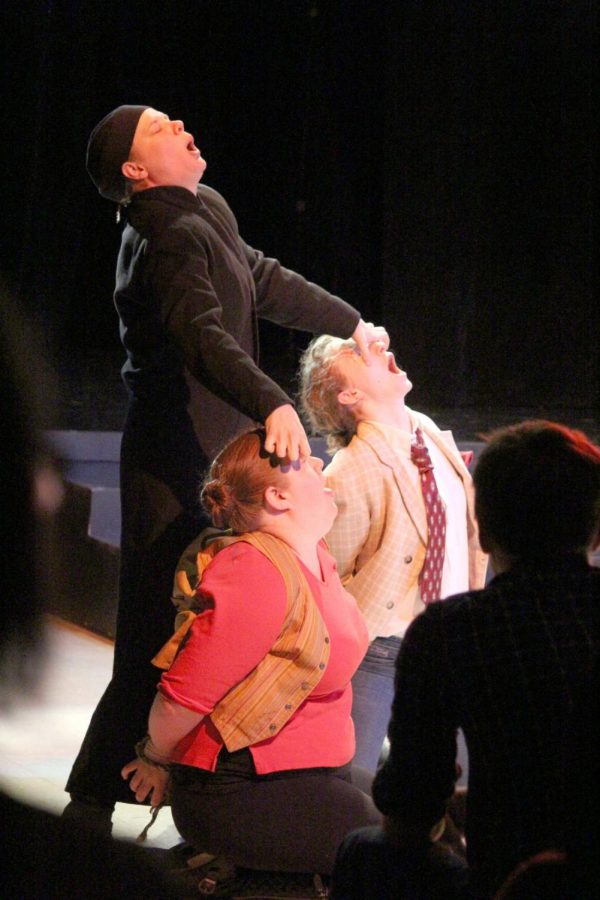 Andrew Roberts
March 23, 2015
The School of Theatre and Dance put on a unique production of William Shakespeare's "The Comedy of Errors," which featured female actors cast in many traditionally male roles.
The play, which was performed March 21 in the Holmes Student Center, Diversions Lounge, is about twins named Antipholus who were separated at birth.
The twins, who each have slave companions named Dromio, find themselves in the same city with neither of the twins realizing the other exists. This leads to what the title implies: several errors as the twins' identities confuse each other and people of the town.
Antipholus of Syracuse was played by senior acting major Tressa Greschak, whose excellent delivery truly fleshed out the character.
I found Antipholus of Syracuse fascinating for his (or rather her) strong stage presence and powerful monologues as the character tried to piece together why everyone in Ephesus thinks they know him.
The one who truly stole the show was Dromio of Ephesus, who was played by senior acting major Annie Pfohl. I was rolling with laughter every time Dromio was on stage. Pfohl's emotions, expressions and delivery were hysterical.
One of the funniest moments was when Dromio of Ephesus got smacked in the head by Antipholus of Syracuse for talking back when Dromio mistook him for his master.
It was strange feeling bad for poor Dromio of Ephesus while still laughing in my seat as he bemoaned his "master's" confusion and aggression.
This adaptation of "The Comedy of Errors" was certainly a sight to see if you appreciate talented actors working their craft. At its best the play was hilarious; at its worst it was chaotic — comically so, of course.
Timelessly witty and utterly wonderful, the excellent performances from each actor added greatly to the production of "The Comedy of Errors."
For those who can't understand the 15th century English presented in the play, "The Comedy of Errors" still manages to be funny, and this production was no different