Nicklas evolves with new role on Board of Trustees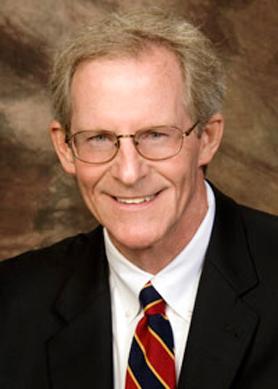 Bill Nicklas' work load just got bigger.
Not only will Nicklas be serving as vice president of Public Safety and Community relations, a position he was promoted to in March, but he will now also serve as the Board Liaison to NIU President Doug Baker and NIU's Board of Trustees.
Nicklas was appointed to the board liaison position by Baker, who officially started work July 1.
As board liaison, Nicklas will assist Baker as he works to administer the policies the board creates.
"Bill Nicklas now handles board operations, a position that oversees all the preparations in making sure the board meetings happen and run smoothly," said Paul Palian, director of Media and Public Relations.
John Butler, Board of Trustees chairman, said the main objective of the board liaison is to coordinate with the board.
"It's a general liaison position where he works with the Board of Trustees in coordinating board meetings and the flow of information between the board and the university leaders," Butler said.
Nicklas came to NIU in 1970 at the suggestion of a professor from Bucknell University, where Nicklas received his bachelor's degree. Nicklas ultimately received two degrees from NIU. He received his master's in 1973 and his doctorate in 1983, both degrees in American History.
"I don't think I stayed for the climate, and I don't frequent Chicago much, so I don't think I stayed for that," Nicklas said. "The rolling farmland and the black earth of DeKalb is quite impressive, but I don't think it was that, either. I think that I really felt at home and was welcomed here. I think it had a lot to do with the people I met here and the friendships I developed."
While studying at NIU, Nicklas began working as a carpenter, which led to his own construction business, Nicklas Construction. His experience in construction led to a position as chief building inspector for the city of DeKalb, which was the beginning of a long career in city administration.
"I spent 10 years in DeKalb and five of those were as city manager," Nicklas said. "I spent 13 years in Sycamore, all 13 of which were as manager."
In October 2011 Nicklas returned to NIU, this time as the associate vice president of University Planning and Sustainability. In November 2012, Nicklas was named acting director of Public Safety.
"Working at a university and managing a city do have some similarities," Nicklas said. "As an administrator, it is important to know the goals and objectives, then make sure that everyone has the resources they need to accomplish those goals. Here, the goal is to facilitate student success."
Students are Nicklas' favorite part of NIU.
"From the minute I arrived on campus in October of 2011, the most refreshing and lively part of my day is working with students," Nicklas said. "I'm struck by the general seriousness they have. It creates an energy that is remarkable."
Editor's Note: Campus Editor Ali Combs contributed to this article.