Associate vice president of Student Affairs to leave NIU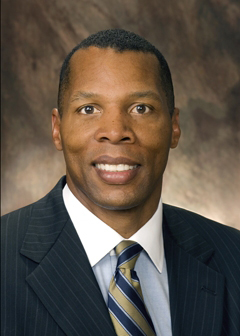 The faculty members who work with John Jones, Student Affairs associate vice president, said his involvement with students will help him in his new position.
Jone will take on the role of Student Affairs vice chancellor at University of North Carolina (UNC) at Pembroke on June 3. Jones' final day at NIU is May 20.
"This is a phenomenal opportunity for my career," Jones said. "I will still be able to truly contribute to student learning. There's mixed emotions, though."
Jones grew up in North Carolina. He said this change is for the best, and he's excited to go back to his home state.
"This is a significant opportunity for me to continue helping students," Jones said. "Students [at NIU] are truly talented. I'm glad for this change though."
Jill Zambito, director of student involvement and leadership development, began working with Jones on the same day in July 2007. He became her supervisor in May 2011. She said he's very student oriented.
"As associate vice president, he took the advisor position for SA [Student Association] Senate," Zambito said. "He didn't have to do this, he makes time for the students though. Typically, [an associate vice president] doesn't have time to meet with students that much, but he does. It's great."
Sandy Briscar, UNC Pembroke executive director of communications and marketing, said Jones' new position has been in interim since the last chancellor retired a year ago.
"The vice chancellor for Student Affairs is responsible for overall excellence in all student life functions, residential living and campus safety, and is an integral member of the chancellor's cabinet," according to an email from Briscar.
Briscar said Jones will be in charge of coordinating, implementing and evaluating student support services, programs and activities. She said UNC Pembroke has a diverse student body of about 6,300 students.
Donna Schoenfeld, NIU health enhancement director, said Jones listens and appreciates the student voice.
"He's provided collaboration across the board," Schoenfeld said. "He's a great supervisor and a strong leader. He has excellent ideas and I'm sure he'll do great in his new position."
Jones said there is no decision made yet about who his replacement will be.