Request to dismiss former NIU police officer's case denied in court Friday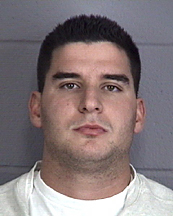 A request to dismiss the case of an alleged sexual assault committed by a former NIU police officer was denied Friday.
At a Friday hearing in the DeKalb County Courthouse, Judge Robbin Stuckert made her decision in regard to a possible violation in the case of Andrew Rifkin, 24. Rifkin was a former NIU police officer who was charged on Nov. 1 2011, with criminal sexual assault. His attorney, Bruce Brandwein, requested Rifkin's case be dismissed when it was discovered at a Nov. 2 hearing that NIU Police Lt. Kartik Ramakrishnan did not submit two witness statements to the prosecutors.
Despite Ramakrishnan attesting the statements were misplaced, Stuckert said it was clear information was withheld in this case. She said this action violated the 1963 Brady v. Maryland Supreme Court ruling. The Supreme Court ruled suppression of evidence favorable to an accused who has requested it violates due process.
At the hearing Friday, Stuckert said a Brady violation does not necessarily mandate a sanction of dismissal. The decision came under the guidance of the appellate court in the second district.
"Such drastic sanctions should be resorted to only when a lesser measure is not available," Stuckert said.
Stuckert said at this point the court will not grant a dismissal of the case against Rifkin because she believes there are other ways the court could address how the evidence in the case should be presented.
Brandwein suggested an alternative measure if the case was not going to be dismissed. He recommended the state get an affidavit of the evidence the NIU police officers had filed, and have them swear under oath that they submitted a complete file of all the reports generated in this case.
"Quite frankly, I don't trust this police department, judge," Brandwein said.
Brandwein also asked if the state could produce one of the witnesses whose statements were not submitted so he could ask her questions. He said it would be fine if she didn't want to speak to him. Stuckert said she couldn't require the state to produce the witness, as it would be the witness's decision to talk to Brandwein.
Stuckert said the state needs to form a response to the discovery of possible exculpatory evidence. The response needed to be on the record on what evidence had been turned over to the state or the defense, and she needed to see what had been disclosed, she said. She said she'd be in a better position to determine what may not have been turned over when she had reviewed the state's response.
The next hearing will take place Nov. 27.