'Perks' has both heart, message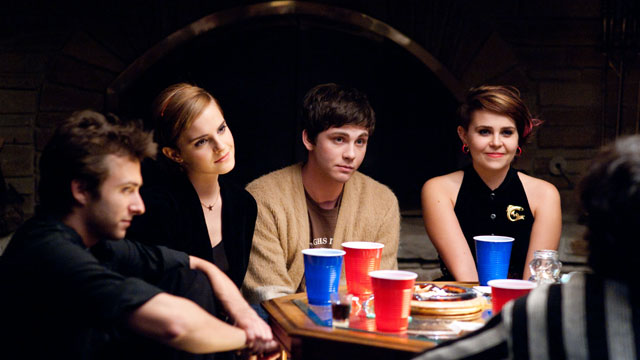 Shelby Devitt
October 29, 2012
At 23, I'm beginning to worry that my love for tales of adolescent disenfranchisement is becoming misplaced. I have to carefully consider my identification with high school-aged characters when I'm at a point in my life where I pay my own bills, live separately from my family and attended my last class of high school in May 2008.
After waiting more than a month for the film adaptation of Stephen Chbosky's The Perks of Being a Wallflower to receive wide release, I settled into the overstuffed seat of a suburban movie theater between my two younger sisters.
As I recalled giving my 15-year-old sister Amy, who is the same age as the protagonist Charlie, her own copy of the novel for Christmas last year, I asked myself: Do I remember what it's really like to be 15 anymore?
Perks is sort of a cult hit in the YA literature world, and any book-to-movie adaptation naturally has those who loved the novel first worried. Knowing the author Chbosky also wrote the screenplay and directed the movie, I decided even if I didn't like it, at least it would be his fault and I would know where to direct my dissent. Instead, I was very pleased with the result.
The novel comes in the form of unanswered letters, written by Charlie (Logan Lerman), to an unnamed source. He writes about an entire year of his life, beginning with the day before his first day of high school. Obviously, a lot happens in one year, and for a 213-page novel, Chbosky covers a lot of ground.
In the film, every key event involving Charlie's group of friends is featured—from meeting Patrick (Ezra Miller) and Sam (Emma Watson) at a football game, to school dances, parties, fights, the Rocky Horror Picture Show and graduation. While some interaction between Charlie and his sister Candace (Nina Dobrev) exists and the backstory of Aunt Helen (Melanie Lynskey) is addressed very well, the film does not focus much on Charlie's relationship with his family.
The casting was excellent, and Miller was dynamic and captivating as Patrick. Lerman wasn't bad, but just like Charlie, he paled next to his more vibrant peers. Watson as Sam and Mae Whitman as Mary Elizabeth lived up to the buzz, and the adult casting was solid. Who wouldn't want Paul Rudd as their sympathetic and intuitive English teacher?
My secret hope was that the film would stay true to the novel's setting during the 1991-92 school year, because I believe in continuity and the importance of the culture of the mix tape to the story. The soundtrack and avoidance of new technology supported my '90s dream. As it was, the film managed to maintain a vaguely '90s aura without blatantly stating it.
Most importantly, the treatment of Charlie's past traumas and mental illness were considerately done and let the viewer understand the gravity of the situation slowly, just like the novel does.
In both mediums, Chbosky successfully conveyed the pains of growing up, experimenting with freedom, understanding love, learning to interact with the world against confusing inner obstacles and discovering what it's like to "feel infinite."
It turns out I don't need to be 15 to still understand.