DeKalb resident wins Technician of the Year award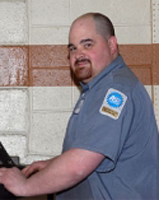 DeKalb's Mark Huff has spent the last 10 years repairing and restoring all around DeKalb.
Huff, who has worked at Motor Works, 316 E. Taylor St., since 2002, received the NAPA/ASE Technician of the Year award on Nov. 18 after competing against others in the Chicagoland area.
"To me, it's an honor to even be nominated, let alone win the award," Huff said. "I'm very proud I did win it. I enjoy what I do every day, and being tech of the year, that's definitely a bonus."
The award considers the abilities to diagnose, repair and interact with people.
"Technical expertise is at the top of the list," said Marty Fay, owner of Motor Works. "This person needs to be honest, loyal and community-oriented."
Fay said Huff fit those requirements perfectly.
Since he was young, Huff has restored all sorts of things. His first restoration was his father's 1943 John Deere Model A tractor.
"I was probably eight or nine when I helped my dad restore it," Huff said. "We started with a tractor that barely ran. It was nothing but rust."
Huff and his father eventually got it working and looking like it came out of the shop brand new.
Fay said Huff has as much natural mechanic ability as he has ever seen.
"A mechanic is like a violinist: you have to be born with it," Fay said. "If you don't have the knack, you'll practice for 10 years and will always be mediocre. Mark built on natural, basic talent until he was at the top."
What Fay calls the Motor Works Family includes a number of brothers and a sister, said service writer Leslie Piatt. She has worked with Huff since he started and considers him family.
"He's worse than having a younger brother," Piatt said. "He's a rotten brat, but if I get stuck in a situation, guess who I'd call. I truly consider him one of my best friends."
Piatt praised Huff's work ethic and his ability to adapt.
"I remember when he first started," Piatt said. "Boy he hated electricity. But he just persisted and persisted and without a doubt, he's one of the best there is."
Piatt said Huff would do anything to help someone in need.
"He's a good-hearted man and like I said, he's been there for me," Piatt said. "If I get in a pinch, without question if I needed him, he'd be there. In today's day and age, that's not a quality you see. It does bring tears to my eyes."
With the National Technician of the Year competition coming up , Huff said he is ready for another round.
"Do I think I'll win? Probably not," Huff said. "I know there are more things I can do. When it comes to community service, there are guys out there pouring their all into it."
Huff said not only does he spend time at the farm, he also takes care of his family, including his 16-month-old son.
"I do think I'm ready to enter, and I'll try to win it," Huff said. "But realistically, I think my biggest downfall is my community service, which is one thing they really look at, moreso nationally."
Despite his doubts, Huff still thanks the Motor Works family for nominating him for and his award. He said he read Fay's letter of recommendation and was almost brought to tears.
"It was so heartfelt," Huff said. "When Marty had me read it, I was taken aback. I knew, but I didn't truly know how much I impressed him and how much he enjoys me working for him."