Prosecution files for Thrailkill arraignment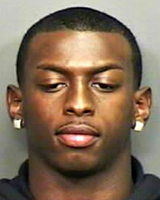 State's attorney Clay Campbell filed a motion for an arraignment for the man charged with the murder of NIU student Steven Agee II, 22, at a status hearing on Monday.
During the arraignment, the charges against Chaz Thrailkill, 19, of Markham, Ill., will be formally read and Thrailkill will be asked to enter a plea of guilty or not guilty, Campbell said.
The prosecution also turned over approximately 1,000 pages of documents and 28 discs of information to the defense.
Thrailkill is charged with first-degree murder, a class M felony. Thrailkill is also charged with aggravated battery with a firearm and aggravated discharge of a firearm, all of which are class X felonies.
Thrailkill is currently being held on $3 million bond and faces a possible sentence of 20 to 60 years in prison for the first-degree murder charge and six to 30 years in prison for each of the other charges, Campbell said. According to state law, Thrailkill must serve 100 percent of his sentence for the first-degree murder charge, Campbell said.
Thrailkill's next scheduled court date is March 5.