'My biggest fear is sucking, not starting a riot'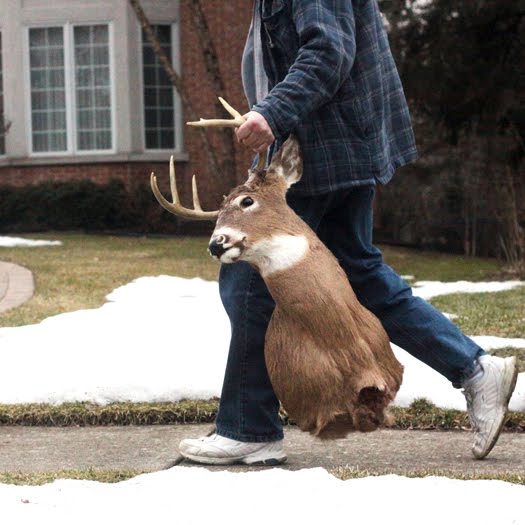 With Saturday's Halloween Extravaganza VII at the House Cafe quickly approaching, Matt Frank and Steve Marek of DeKalb's Loose Lips Sink Ships are prepping to play as infamous Toronto duo Death From Above 1979. The Northern Star spoke with Frank about the ups and downs of getting set to perform as the tight-jeaned, mustachioed twosome, including trying to hit ball-busting high notes and considering growing mustaches in time for Saturday. Read on to find out which of the pair is incapable of sporting a Death From Above 'stache.
NS: What's the deal with Loose Lips Sink Ships? Are you guys broken up, or not? I've heard a couple different things.
MF: I guess you're going to hear it first. We had some debts to pay off, so that's why this summer we played a couple of shows. But we paid off our debts, finished all of our final recordings and we're done, as far as I'm concerned. I love those guys, and I love playing music with them, but as far as booking shows and recording time – and pretty much everything besides actually playing – I did. It kind of wore me out. So, yeah, we're done. I'm done. But if they want to try and continue, best of luck to them.
NS: But you're doing the Halloween show as Loose Lips.
MF: It's just Steve [Marek] and I. He's playing bass, and I'm playing drums. I've known Steve longer than anyone else in the band – he's been my friend forever. He lives in DeKalb still, and we still like playing together. We didn't book it as any band. We've known John [Ugolini, Kickstand Productions founder] forever, and I just asked John if Steve and I could do it, and he booked it as Loose Lips. I don't know why – I'm sure it's just from a business standpoint.
NS: Why did you choose Death From Above 1979 to perform as for this year's Halloween Extravaganza?
MF: It's kind of a cop out just because it's not hard. Steve plays bass a lot, and he's really, really good. He has a really good ear for tones. And I don't have to worry about the drum parts, because they're not hard. Actually, the funniest thing is, we did this because we didn't think it'd be a challenge, and it isn't instrumentally, but vocally it is. It's really hard for me to sound like I've been kicked in the testicles a hundred times. [Death From Above 1979] is a band that we're familiar with because we listened to a lot when we were younger, so we figured it'd be fun.
NS: What of Death From Above's material are you going to be playing?
MF: They've only got one record. They've got an EP, but we're not playing anything from the EP – only stuff from the full length. I will give you this – we're not playing "Sexy Results"because that's the worst song ever. We're not playing anything with a synthesizer, because Steve doesn't know how to play piano, so that rules out two or three songs. We're playing "Romantic Rights"because we have to, pretty much. Other than that, it's a surprise.
NS: It's kind of interesting that Death From Above broke up in 2006 and reunited last March with some not so "sexy results" including a riot at SXSW. I know people get pretty stoked around here when they see Loose Lips on a bill, so hopefully there's no riot.
MF: I don't think that's going to happen. I don't expect anyone to riot when we butcher these songs. If anything, they're going to riot when they get pissed off at us for messing up. If we perform semi-decently, I'm hoping that in return I won't get my ass kicked and instead someone will buy me a Hamm's. My biggest fear is sucking not starting a riot.
NS: How do you think any of the music that you've written would sound if Death From Above were to try to play it?
MF: Probably terrible. For one, they don't have a guitar player. Two, the drummer couldn't keep up with Jacob [Boulay].I never saw Death From Above live, but I watched a few videos to get a feel for how they play, and he is the worst drummer. He is terrible. He doesn't hit very hard, and he doesn't have any emotion behind it. It's really kind of childish, the way he plays. I will say this: I would be very intrigued to see Death From Above do a cover of a Loose Lips song. But I'd be shocked that they'd ever even heard of it. Who knows, maybe it'd be awesome. Maybe they could do a better job than us. It's an interesting thought, though. I think a cooler person to rewrite one of our songs would be James Taylor or Paul Simon.That would be f*****g awesome.
NS: Are you guys dressing up for this?
MF: I thought about it. I don't have money, nor do I have the patience, and I sweat so much that by the end of the night it's ruined. Steve said he's thinking about being a carrot, so I thought about being a bottle of ranch dressing, but I don't even know how I'd make a costume like that. Maybe I'll just be my dad. I've got the same really bad receding hairline that he has. I have no idea what I'm going to do. If you have any suggestions, I'd be willing to hear it.
NS: Why don't you just wear some elephant trunks, like the cover of "You're a Woman, I'm A Machine" [Vice Records, 2004]?
MF: That was something I thought about last night when we were going through some of the songs. We also thought about just trying to look like the guys in Death From Above, but Steve can't grow a mustache. I can, but it's too late now. I should have been growing it. We'd have to get swoop haircuts. And I don't know if I can fit into those really tight jeans. I guess that's out of the picture.