Caught in Your Pockets digs deep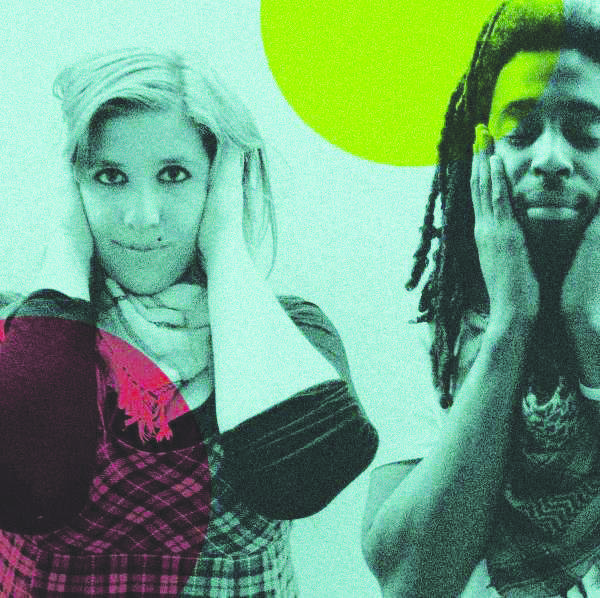 If you have been searching for a highly addictive indie pop band that is still below the radar enough to impress your friends, then Caught in Your Pockets might be just the band you're looking for. Last year the duo rocked the House's Halloween Extravaganza as the Yeah Yeah Yeahs, but this year the band is going a different way. Flyers and posters incorrectly advertised the band performing as Amy Winehouse for the evening. Keyboardist and vocalist Brynn Bixby and percussionist Moo Haygood will tribute Vampire Weekend.
Northern Star: How long have you two been playing together?
Brynn Bixby: About, like, three and a half years.
NS: And how did you start playing together?
BB: I actually was playing piano at a party once and messing around, and Moo [Haygood, drums] was there and said he wanted to play drums for one of my songs, and we just started doing it, and we've been doing it since then.
NS:Where did you guys come up with the name "Caught in Your Pockets?"
BB: Honestly, people ask us that, but we don't really remember. We kind of just decided on it. There isn't a really cool story behind it or anything.
Later, Bixby said in a text, "I know I said we didn't pick our name for a reason, but we kept it because we thought it would catch people's attention. And maybe it would get caught in your pockets."
NS: Caught in Your Pockets is just a two-person outfit. Are there any benefits or negatives that come with there only being two of you?
BB: Well, we've been a two-piece for a really long time. Recently we've been playing with Alex Beach. He's been playing bass with us, and it's been a lot of fun. We've been able to do some different stuff. We both still like doing two-piece shows sometimes — we're doing a show tonight as a two-piece, and it's a lot of fun. The only downside really is that sometimes we just like to experiment with more instruments and get a different sound. We've been kind of looking forward to that, but it can be fun to do a two-piece, and it's kind of original.
NS: Why did you guys choose to perform as Vampire Weekend this year?
BB: We just thought it would be a lot of fun. We have a couple people playing with us, and we've always been pumped about doing Halloween shows at the House. Last year we were the Yeah Yeah Yeahs, and it was a blast. We're just excited to come back and do this year again. Vampire Weekend is just kind of like a fun, surfer-pop band, and we both like all their albums.
NS: You play in DeKalb a lot, what keeps you coming back?
BB: I went to school in DeKalb, and I'm a big fan of the music scene out there…John Ugolini  with Kickstand Productions has just done a lot for the music scene. He brings out a lot of good bands and that's half the reason I like to play out there. We always get really good bills with bands that we like. Also, people out there are awesome we have a lot friends and bands out there. We just always like to come back.