Area band wins big for Middlewest Fest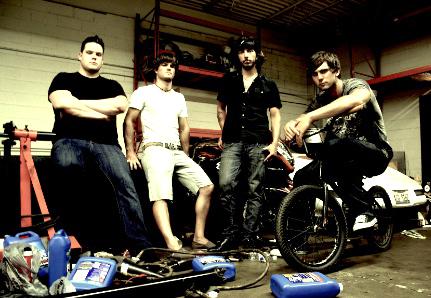 With the weekend fast approaching, fans aren't the only ones getting excited for Middlewest Fest.
Eli, of Bartlett, won a Battle of the Bands at Mad Maggie's in Elgin for a slot in the festival, and is thrilled to have the opportunity to play at the Egyptian Theatre, 135 N. Second St., this Saturday, with Murder By Death, Miss May I and The Color Morale. DeKalb Scene spoke with singer/guitarist Harrison Wenger of Eli while the band was on its way home from a trip to Starved Rock about the band's upcoming Middlewest Fest show and found out what playing the event looks like to a local band.
Northern Star: Who is Eli, and when did you guys start playing music together?
Harrison Wenger: Eli started back in 2002. We played our first show and we all seemed to really enjoy it. So, we started the band and at the beginning it was more of like, punk, metal – we played Blink 182 and whatnot. So, once we started playing shows, we went and we promoted at local movie theaters and stuff. And from the beginning we started to draw a lot [of people]. When we were 16, we were drawing like 150 people to the local scene center. We were hardworking from the beginning and we kind of had that intent on doing something with it. The band members as of right now are: me, Harrison Wenger, I sing and play guitar. I even play guitar behind my head, you know, to keep people interested; we have Ryan Ciran, our second guitarist; we have Jason Connell on bass and finally we have Adam Sofia on drums.
NS: Nice. What are some of your influences? I hear some Devil Wears Prada and Bring Me the Horizon in your music.
HW: Yeah, for sure. We are mostly influenced by Still Remains and Misery Signals, and maybe a little Killswitch Engage. We want to stay with the happy medium of not too heavy metal but not too light. We kind of like that in-the-middle sound because we can sing awesome choruses and have everyone sing along, and then still have that heavy part of the song where we have the breakdown and whatnot. It seems to be pretty emotional music because of its ups and downs and dynamics.
NS: Definitely. It's great to have that variety, it's a little something for everyone. How did that work out for the Battle of the Bands that you won that got you the chance to play Middlewest Fest?
HW: Well, the actual Battle of the Bands was like a local show for us because it was mostly local bands that we've played with before – we're all a tight knit community. Everyone kind of knows each other. And it was basically based on [the number of people a band brings to a show], so we had to promote our a**es off and make sure that we had the biggest number of people, otherwise that show would have been almost for nothing. We won by a small amount, I think it was like four people, and that's what got us the opportunity to play Middlewest Fest. It was so close though, everyone played really well.
NS: Are you all excited about playing Middlewest Fest with The Color Morale, Miss May I and Murder By Death on Saturday?
HW: Yeah, it's cool  – some of the bands are actually friends of ours. We've played with Miss May I a bunch of times, and The Color Morale are close personal friends with us. We've played with them before, and they've even been signed now. So, this is a good opportunity to represent ourselves to the touring community. You know, all the signed bands. We're the only local act on that show from what they told me, so it's a really good opportunity to represent ourselves as independent artists. We're just really grateful that we have the opportunity to play Middlewest Fest.
NS: What exactly does playing Middlewest mean to your band?
HW: Well, it's a great opportunity for us to meet new people and network, and to play with our friends' bands as well and to represent Chicago. And, of course, to have a lot of fun.
NS: What types of future plans does the band have? Any plans of looking for a label?
HW: We've always been and independent artist, and we like it that way because we basically get to do what we want, and we're still business-savvy and have that sense. But, we just finished recording a demo of a new album for hopefully 2010, maybe December. So, we do want to look for a label for that, because it'd be great to have an album released by a major label.
NS: Sounds exciting. It sounds like you guys are a pretty solid band. What's the best thing about being a part of Eli?
HW: The best part is when we're performing and we look out and we see people singing along. It pretty much makes all the hard work and all the promoting and all the songwriting and all the recording and everything else that goes on behind the scenes worth it for us, because it's a connection with our audience. We get to finally see that connection, and we get to live through it with each other and it's very wholesome.