Ready for online learning? Here's what you need to know.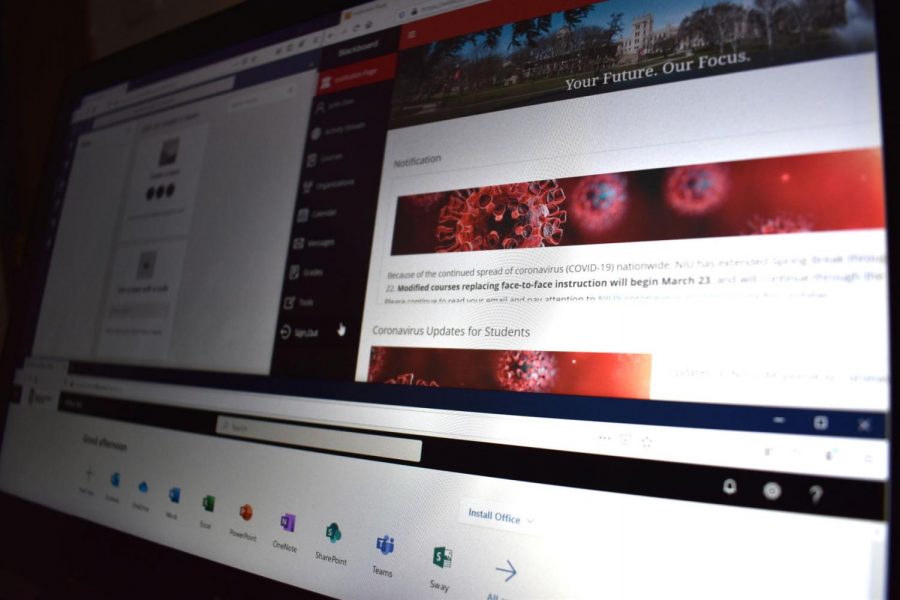 The university will switch to online-only learning for the rest of the semester starting Monday.
The Northern Star has put together a guide answering key questions students may have, using university resources. The university has set up a Keep Learning page with resources to help students for the rest of the semester.
How will professors communicate with me?
Blackboard, syllabi and student emails will be the main points of contact between professors and students, according to the university.
How will I attend lectures?
There are two different delivery methods for live lectures: Blackboard Collaborate and MS Teams.
Blackboard Collaborate runs directly in Blackboard Ultra. Students can connect with a webcam or microphone on their laptops, call in from a phone or use the Blackboard app, available for Android and iOS.
Blackboard Collaborate supports text chat, virtual whiteboards, hand raising and small group breakouts.
Microsoft Teams Phone Conferencing add-on has been temporarily enabled through Office 365, which students can log into with their zID email. Instructors can create "Teams" for their classes, which can be used for group chats and announcements. Then, a phone conference can be started that allows students to call-in from their phones.
Members of the team can also tune in on their laptops or smartphones, using the web application or downloading the app on Android or iOS.
What do I do if I don't have a laptop?
Students on campus still have access to computer labs around campus. Check this page to see the availability of computers. Make sure to sanitize the area and wash your hands before and after use.
The university library has an increased number of laptops available for checkout as well. Laptops can be checked out for a maximum of 48 hours.
Students not on campus can check their local public libraries for computer lab hours, though some librarians are calling for library shutdowns to maximize social distancing. The DeKalb Public Library is closed to the public until March 30.
What do I do if I don't have an internet connection?
Students on campus can use the academic culture centers, which will remain open and have Wi-Fi access.
Tens of internet and telephone service providers have signed the Keep Americans Connected Pledge. The pledge, launched Friday, commits participating companies to keeping service to residences and small businesses while they are unable to pay bills, waive late fees incurred due to economic changes due to the pandemic and open their public Wi-Fi hotspots to "any American who needs them."
Internet service provider Spectrum offers a free 60 days of service for households with students that have not had an internet subscription with any provider in the past 30 days. Installation fees are waived. The service can be canceled before the free period ends to avoid standard charges.
Can I still get a tutor through the university?
Yes.
ACCESS Tutoring and Support Services are adapting to an online-only format. Tutoring sessions will be held through Blackboard Collaborate. Students currently enrolled in a course with supplemental instruction attached will continue their weekly sessions with a student leader. Students can expect an email from their assigned student leader before classes begin.
The University Writing Center is also adapting. Students can sign up for an online session through WCOnline.
Who can I contact if I have trouble using Blackboard or Office365?
The Department of Information Technology has a 24/7 tech support line at 815-753-8100, or students can create a support ticket through the Self-Service Portal or emailing servicedesk@niu.edu.
How can I get the accommodations I need?
The Disability Resource Center will continue operating remotely and can be reached at 815-753-1303 or drc@niu.edu. The center asks students calling in to leave a message for the main office.
Have a question we didn't answer? Send us an email at editor@northernstar.info and we'll update this page.