Alumna Vicki Quade tells quirky stories in 'Close Encounters of a Chicago Kind'
NIU alumna and former Northern Star reporter Vicki Quade published her book "Close Encounters of a Chicago Kind" on Dec. 1. The book tells numerous stories of random occurrences Quade had in the Chicago area through observational journalism. 
Quade graduated NIU in 1974 and pursued a journalism degree because she loved to write, and she found a lot of enjoyment in being the storyteller, Quade said. And that's what "Close Encounters of a Chicago Kind" is all about. Quade retells quirky and unbelievable stories about fascinating characters throughout Chicago in various locations like banks, grocery stores, airports and even her own home. 
While the book revolves around random instances Quade has had with people, it's about Chicago people as well. Readers get to learn about how Chicago residents interact and the type of culture they represent in the Windy City. 
"Chicago is a no nonsense city," Quade said. "It's an open and often friendly city that has a lot of quirky characters." 
The stories take place over a vast timespan in the Windy City. As those stories would transpire throughout the years, Quade would write them into Facebook posts with a large amount of positive feedback, Quade said. And once the pandemic hit, Quade said she found herself engrossed with many activities while writing this book. 
"Finally, during the pandemic, I thought this might be a good project," Quade said. "I've done a lot during the pandemic. I've written a musical, I've written this book and even tremendous DNA research." 
In February of 2020, once Quade dwindled down her list of stories, she said she picked the quirky ones that, at the end of the day, are stories about life. 
"Little did I know how relevant this book would be during a pandemic," Quade said. "It reminds you of what we had and what we're longing for. The ability to connect, the ability to go to the bank and stand in line or the ability to walk in a park and spot something unusual, and I think that's the reason why people are enjoying this book."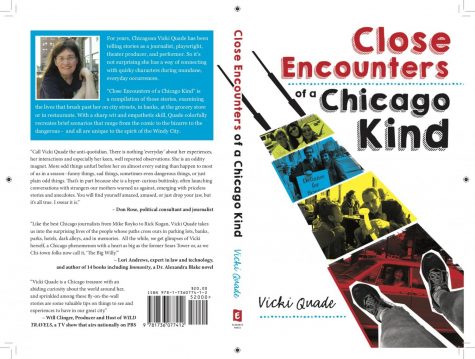 Through the years of posting those stories on Facebook, Quade has intrigued many Facebook friends including former Northern Star reporter and NIU alumna, Rhonda Wassell. 
"She's really gifted in seeing everyday life in a way that it can be universal," Wassell said. "They were always entertaining, sometimes poignant, sometimes weird, but they were always something she observed." 
Future goals for the book entail Quade going back to the places where these encounters happened, take pictures and read the stories to go along with those photos, since she can't do book signings or readings, Quade said. Quade also wants to take these stories and turn them into live performances on stage. 
NIU alumni and former Northern Star reporter, Shelley Epstein, spent two years on the Northern Star staff with Quade until they both graduated in 1974. Some of Quade's strongest attributes of being a playwright comes from being a reporter, Epstein said. 
"Good playwrights, which she is, are observers of the human condition," Epstein said. "She's done a great job crystallizing that into her significant success of her plays."
Quade has been a part of theater productions for a long time; she even holds the record for the longest running religious comedy not only in Chicago's theater history, but also off-Broadway in New York with her show "Late Nite Catechism" which opened in 1993, according to the Eckhartz Press website.
Some of the biggest foundations as a writer and as a journalist came from Quade's time at the Northern Star, Quade said. Those early years on the Northern Star staff, and being there when the newspaper received the Pacemaker award in 1974, helped not only make this book an enjoyable read about nice short stories, but about stories that make readers reflect on their lives. 
"When you get into it, you start to think about your own life, the people you've met and your own experiences," Quade said. "Some of them are very poignant." 
"Close Encounters of a Chicago Kind" is available through Eckhartz Press for $20 and Quade can be found through Facebook and her entertainment company Nuns4Fun.