Senior NIU student joins Space Force
DeKALB – As a member of the new military branch, the U.S. Space Force, Danielle Green, senior communication major, is excited to see how the current day U.S. Military operates and how the Space Force will advance as it becomes more developed. 
Green was accepted into the Delayed Entry Program in February, which is the time you wait to receive your departure date for Basic Military Training through the Air Force. She was later enlisted on April 20, which is also when she left for basic training. The U.S. Space Force was created in 2019.
"The U.S. Space Force is a military service that organizes, trains and equips space forces in order to protect U.S. and allied interests in space and to provide space capabilities to the joint force," according to the Space Force mission.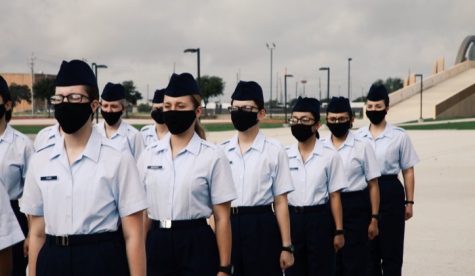 Green explains the mission as it's the Space Force's duty to stay on the ground watching satellites, keeping watch for what other countries may send to space and to make sure space does not become militarized.
Green's current rank is E-3, which is the third rank within enlistment and her title is Specialist 3, which means her Space Force name is SPC3 Green. Green is currently in class for job training in technical school at Goodfellow Air Force Base in San Angelo, Texas. 
Green said the coolest aspect about living at Goodfellow is there are members from every military branch training there.
Green originally had no interest in joining the military since no one in her family has ever been involved. However, in October, Green went with her husband to a recruiter's office for the U.S. Air Force. Green said the recruiter was so good at his job that it sparked her interest in joining. She also said she didn't want to continue doing online classes during the COVID-19 pandemic because she prefers to take communication classes in person.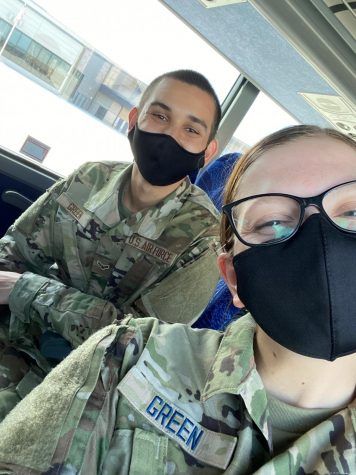 "I went to an Air Force recruiter since there were no Space Force recruiters yet," Green said. "My training was through the Air Force. Out of the 40 girls I live with in my dorm, only 11 are Space Force, the rest are Air Force women."
Enough men join the Space Force that they can have their own flights, but since not enough women are joining, they are mixed with the Air Force, Green said. 
"We do a lot of work with NASA, SpaceX and Boeing because Boeing has a lot of different satellites, planes and things that operate up in space," Green said. "So NASA would be more of those astronauts that are actually in physical space, making sure that space is looking as we want it to, that the satellites up there are operating as they should and keeping an eye out on other countries and what they're sending up in space."
The Space Force is the only military branch to wear the American flag on the left arm of their uniform. This is to honor astronauts that also wear the American flag on the left arm of their spacesuits, Green said. 
"I'm very excited to see what modern day military looks like to see what our country's doing to defend our nation, but to also take away some of those older customs that maybe aren't necessary and seeing it in a more modern view, so that not only are we taking care of and protecting our country, but we're also taking care of those that serve the country," Green said. 
Other branches of the military can lean on their traditions too hard, which can cause them to be blind to modern technology and generations, Green said.
"The Space Force is all about new innovations and they have an easier ability to think about the future instead of the past in order to better protect our nation and space," Green said. 
Green said she misses the structure of college since she would only be at NIU for four hours and would be able to go home and take a nap. Now, she has physical training early mornings, goes home to shower and then has class for eight hours
After Green's time in the Space Force, her ultimate goal is to get her doctoral degree to become a communications professor in a traditional classroom setting because she wants to share her passions with others. 
"I think one of the saddest things is when you get a professor that doesn't seem to actually care about the subject, so I want to be someone that makes it fun," Green said.  
Editor's note: One aragraph was edited to show Green went into the Delayed Entry Program in February but wasn't enlisted until April and a word was changed from "materialized" to "militarized."