Redistricting 2020: The redrawing of political boundaries
Illinois and the nation have begun the process of redrawing congressional districts that will last the next decade.
October 22, 2021
As the 2022 midterm election primaries approach, it's important to understand the process of political redistricting and the impact it has on its citizens. With the loss of one congressional seat, Illinois, its citizens and learning institutions will be impacted by this loss of representation in Washington. 
Gerrymandering has been pushed to the forefront of the political conversation as the desire to gain and retain power in Washington only grows, but who is impacted by the political game of map drawing? What issues do partisan politics have in selecting a congressional delegation that matches its state demographics? Who is getting forgotten or belittled in this process every ten years? Over a series of reports, questions such as these will be explained and broken down to have a better understanding of what is going on between district lines.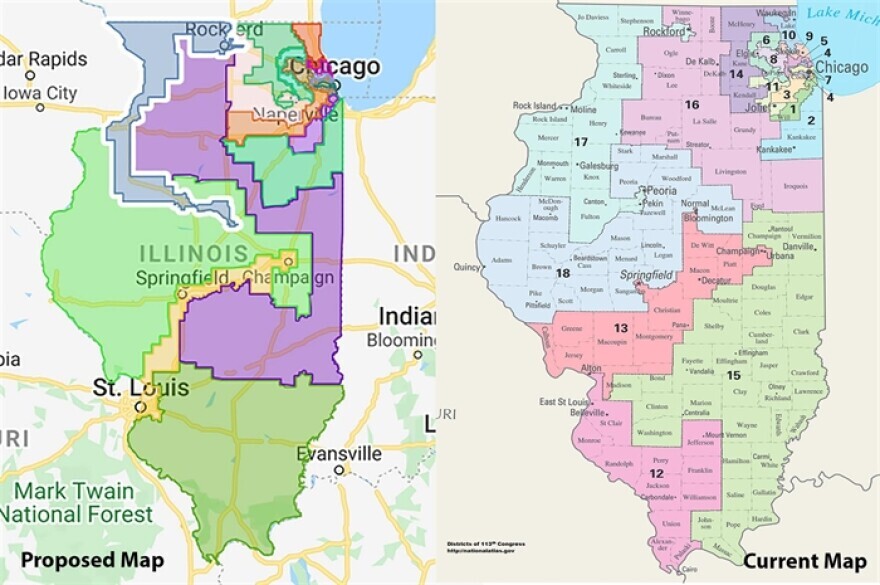 Screen capture from Google Maps
Illinois Dems release second proposed map
DeKALB— The 2022 Illinois midterms would see incumbent Republicans Adam Kinzinger (R-16) and Darin LaHood (R-18) square off in a possible primary battle after Illinois Democrats released their second proposed district map Saturday.
The newly drawn map would still see Democrat Lauren Underwood (D-14) represent DeKalb and Sycamore. Bill Foster (D-11) would have to campaign into parts of Fox Valley and down to Naperville. 
Here's why I'd consider this new 14D-3R proposal a "safer," more brutal partisan play (vs. first draft)…#IL03 Newman (D) – Biden +12 (Biden +6)#IL14: Underwood (D) – Biden +12 (Biden +8)#IL17: Bustos (D) – Biden +9 (Biden +6)

— Dave Wasserman (@Redistrict) October 23, 2021
The new draft would split up Bloomington-Normal and the greater Peoria area into both the 16 and 17 congressional districts. Kinzinger and LaHood currently reside within the new boundaries. 
The new lines for the IL-17 would also lean more Democratic than in the first proposal, with the boundaries spanning through Bloomington-Normal, parts of the Quad Cities and Rockford. 
The projected delegation make-up under the revised map would still favor Democrats by a margin of 14-3, but the new lines do make some districts less of a toss-up than in the first draft.
State lawmakers are expected to discuss the congressional map this week, and a vote on the map could come by week's end.
The Northern Star will update this story when new information becomes available.
Scott Applewhite | Associated Press
Illinois Dems release new Congressional map proposal
Party expected to pass proposed map as early as next week
What to know
2020 U.S. Census results saw the state of Illinois decrease by 18,124 persons
The decline in the population dropped the state congressional delegation from 18 members to 17 starting in the 2022 primaries.
Democrats in Springfield drew the maps to yield a 14-3 split in favor of Democrats
Republican Adam Kinzinger (R-16) district combined with three Democrat-leaning districts
---
DeKALB— After months of speculations, Illinois Democrats released a new proposed U.S. House district map that would take effect for the 2022 midterm primary elections in June. 
Democrats, who hold supermajorities in both chambers of the legislature in Springfield, released the proposed maps on Oct. 15 for the public to view and comment on before going to a full chamber vote.
The maps consist of 17 oddly shaped districts, similar in population size, but different from the 2011 approved congressional map due to the results of the 2020 U.S. Census data. Illinois saw a population decrease of 18,124 persons since the 2010 census was released, according to census.gov.
The population decline cut the Illinois House delegation from its current 18 congressional seats to the proposed 17, meaning some members of Congress might have to campaign to represent a different district. 
Among those who could face a general election battle is GOP Rep. Adam Kinzinger (R-16), whose current district has now overlapped with Rep. Marie Newman (D-3), Bill Foster (D-11) and Lauren Underwood (D-14), meaning the outspoken Republican would have to find a new way to return to Washington in the upcoming midterm elections.
The new proposed map would yield a projected 14 Democratic and three Republican-held districts. Currently, the Illinois delegation is made up of 13 Democrats and five Republicans. 
The proposed maps have not gone without criticism. Illinois GOP Chairman Don Tracy railed against the process, calling it partisan and disenfranchising. 
"Illinois Democrats, led by Gov. J.B. Pritzker, have made it clear that they are willing to disenfranchise Illinois Voters," Tracy said in a statement. 
The general assembly is expected to pass the proposed maps as early as next week, according to the Associated Press. 
The Northern Star will update this story when new information becomes available.