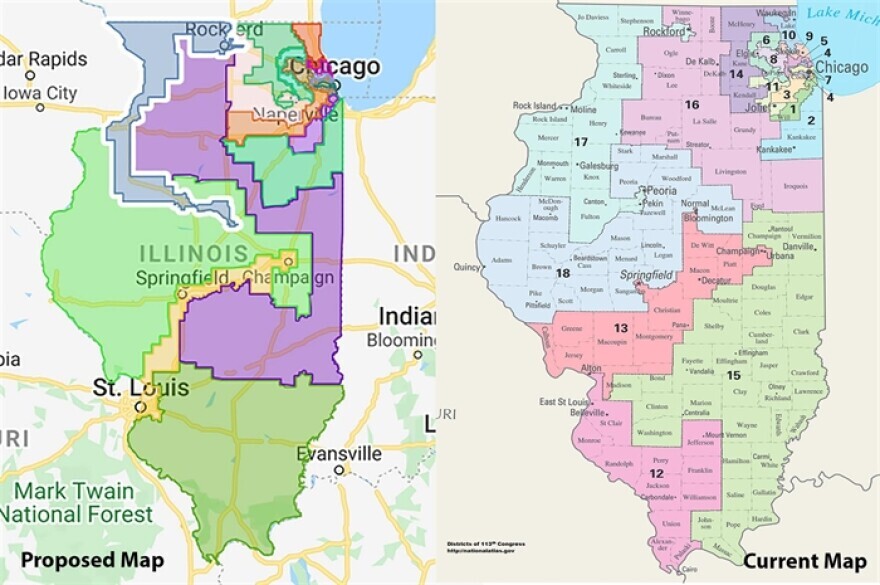 Screen capture from Google Maps
Illinois Dems release second proposed map
October 24, 2021
DeKALB— The 2022 Illinois midterms would see incumbent Republicans Adam Kinzinger (R-16) and Darin LaHood (R-18) square off in a possible primary battle after Illinois Democrats released their second proposed district map Saturday.
The newly drawn map would still see Democrat Lauren Underwood (D-14) represent DeKalb and Sycamore. Bill Foster (D-11) would have to campaign into parts of Fox Valley and down to Naperville. 
Here's why I'd consider this new 14D-3R proposal a "safer," more brutal partisan play (vs. first draft)…#IL03 Newman (D) – Biden +12 (Biden +6)#IL14: Underwood (D) – Biden +12 (Biden +8)#IL17: Bustos (D) – Biden +9 (Biden +6)

— Dave Wasserman (@Redistrict) October 23, 2021
The new draft would split up Bloomington-Normal and the greater Peoria area into both the 16 and 17 congressional districts. Kinzinger and LaHood currently reside within the new boundaries. 
The new lines for the IL-17 would also lean more Democratic than in the first proposal, with the boundaries spanning through Bloomington-Normal, parts of the Quad Cities and Rockford. 
The projected delegation make-up under the revised map would still favor Democrats by a margin of 14-3, but the new lines do make some districts less of a toss-up than in the first draft.
State lawmakers are expected to discuss the congressional map this week, and a vote on the map could come by week's end.
The Northern Star will update this story when new information becomes available.