A'Jah Davis: DeKalb superstar 21 years in the making
Junior forward from DeKalb on pace to break double-double record.
DeKALB — When junior forward A'jah Davis first started to get serious about her basketball journey at DeKalb High School, just five minutes out from NIU, the university wasn't always a part of the plan. But it became the place Davis needed to return to become the player she is today.
Growing up in DeKalb, Davis was always connected to NIU, even attending games with her friends and family back in middle school. Her strongest connection to the school comes through her mother, Herlinda Thigpen, a former Huskie who also played basketball at NIU from 1995 to 1997. That relationship didn't make it a foregone conclusion that she would end up in a black and cardinal jersey, however.
"Obviously, my mom played here but my original goal before I went away for high school wasn't to come to NIU, but that's just the way things worked out," Davis said.
Davis was focused on finding the best opportunity to further her basketball career. That opportunity would come after her freshman year of high school, when she got the chance to play for her mom's friend and distinguished NIU alum Yconda (E.C.) Hill, who was the head coach at Montverde Academy, a preparatory high school in Montverde, Florida.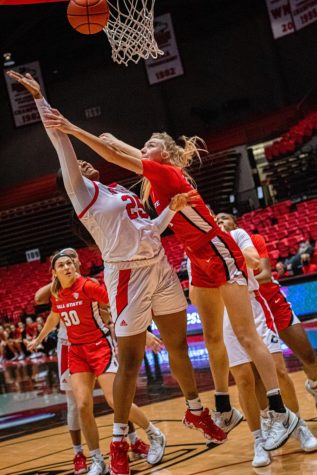 A move to the Sunshine State
The decision to leave DeKalb was not an easy one for Davis, but with help from her mom and friends, the choice became clear.
"My mom and friends around DeKalb were a big influence," Davis said. "I told them about the opportunity and they told me it was something I couldn't pass up on."
Davis would continue to grow as a player under Hill over the next three years. The move helped her get more comfortable and prepare her for what the college game would be like.
"At Montverde, we had that college experience on the court," Davis said. "I played with and against a lot of Division I players, so it was a look at what the college game would be like."
Davis was averaging 11.2 points and 10.4 rebounds per game by her junior season. The next season, she helped Montverde secure a 20-4 overall record and a national rank of 61st. With the success Davis had at Montverde, college ball was clearly the next step, but where she would be playing her next four years was a big decision.
One of Carlsen's first recruits
Around that time, NIU women's basketball head coach Lisa Carlsen was ready to bring the DeKalb native back home. Carlsen had first known about Davis since her freshman year of high school and could already see the potential early on.
"When I first got this job, she was just a freshman at DeKalb (High School)," Carlsen said. "I remember seeing her at the Challenge Game and I thought, even at that age, she was a woman among girls."  
"
Everyone knew that she was gonna be the center of our offense the next three years.
— Redshirt senior guard Janae Poisson
Carlsen kept up-to-date with every step of Davis' high school career, whether it was through seeing her play in the summer Amateur Athletic Union leagues or keeping in touch with her at Montverde.
The three years Davis was away from DeKalb helped her realize how much she had missed her hometown. Her strong connection to the city made the choice to come back so much simpler.
"Honestly, I just had a really good feeling about NIU," Davis said. "I wanted to come back home. I was really homesick the three years I was there and I knew I could be a really good force for NIU and in the Mid-American Conference."
Constant progress season-to-season
Being a "good force" has been an understatement for the type of season Davis has put up this year, but it took time and effort to get to the level she's at now.
"Her development since freshman year has been leaps and bounds," Carlsen said. "When she came in freshman year, we were a senior-heavy team. She didn't get a lot of playing time, but she was able to learn the game. When given the opportunity as a sophomore, she was ready for that."
Davis appeared in 28 of 30 games for the Huskies in her first season with the team, averaging 5.8 points and 4.8 rebounds per game. Although her freshman year averages weren't crazy, teammates like redshirt senior guard Janae Poisson could see the potential in Davis.
"I think everyone knew she was gonna be a big part of our program even though she didn't play much her freshman year," Posisson said. "Everyone knew that she was gonna be the center of our offense the next three years."
With Davis getting more opportunities her sophomore season, her stats took a big leap to 11 points and eight rebounds per game, nearly doubling her freshman year stats. Even with the improvement, Davis knew she could be doing more, so she got into the gym and went to work.
"The amount of work I've put in this offseason with different trainers and then coming back to  NIU to put in work with the coaches was the biggest help," Davis said.
Her offseason training has helped her become one of the most dominant forces in the MAC this season. Davis is averaging a career-best 11.7 points and 15.6 rebounds per game, the fourth best in the entire NCAA. In 21 games this season, Davis has already produced 17 double-doubles. She is currently tied with Ally Lehman, a current assistant coach and former guard at NIU who played from 2014 to 2017, for the most double-doubles in a single season in program history.
The pride of her hometown
Davis has so many people in her life that have helped guide her to this point, but there's an extra special motivation she receives that has fueled her to be one of the best forwards in college basketball this season.
"It's really cool just to see how my niece and nephews look up to me," Davis said. "Whether they call me and say 'I saw you on TV' or if they're at the (Convocation Center). They're my go, they're my reason."
In just her third season, Davis is close to being cemented in the NIU record book and has already proven to be one of the best players in program history. This feat makes it all the more special that the homegrown kid who used to come watch NIU basketball games has come back home to leave a legacy that makes everyone who knows her proud.