What's Up With: DuSable's disrepair?
Editor's note: This piece is part of  an investigative news series called "What's Up With?" You can fill out the form for potential coverage of a topic here.
DeKALB – Plans are underway to renovate NIU campus buildings including Watson Hall and Reavis Hall; however, nearby DuSable Hall is not a part of any renovation plans.
WHAT'S UP WITH: DuSABLE HALL NOT BEING RENOVATED?
Renovations for Wirtz Hall, Williston Hall, Still Hall, Still Gym, Gabel Hall, Graham Hall, Davis Hall, McMurry Hall, Reavis Hall, Watson Hall, Psychology-Computer Science Building and Montgomery Hall were approved as part of a capital project by the NIU Board of Trustees.
John Heckmann, associate vice president for facilities management and campus services, noted that building repairs and renovations are different things.
Repairs fix damage to buildings in order to restore them. Renovations are plans to modernize or repurpose buildings, which can include repairs.
Heckmann said DuSable is not part of the capital project to renovate buildings like nearby Watson and Reavis because it needs repairs, not renovations. The cost of repairs to DuSable will be covered by the Capital Renewal Project, a plan to make long term repairs to NIU buildings and facilities.
Heckmann said $52.9 million has been approved by the state for the Capital Renewal Project. Despite this approval, the $52.9 million is not given all at once, instead being distributed out by the Illinois Capital Development Board.
"If there's a particular issue to solve like a leak, we're not going to wait for the state project to fix that," Heckmann said. "We're going to get on that and address it as quickly as we can within the means of our own funding."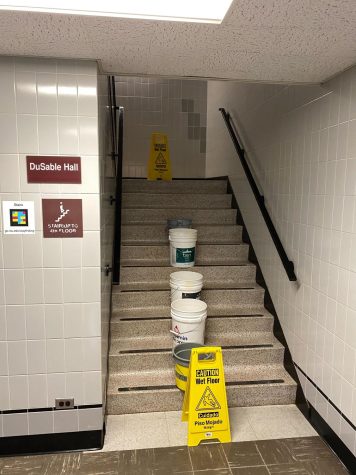 On Jan. 19, rain leaked through the roof of DuSable causing flooding to the upper west side stairwell and damaging its ceilings. Christian Perea, a sophomore majoring in nutrition, dietetics and wellness who attends classes in DuSable, said seeing damages like leaking shows the age of the building, but that at least NIU is aware actions need to be taken.
"Any help is good," Perea said. "I guess as long as it's not something that's just going to be broken again. Progressiveness towards it is helpful, or at least there's a start."
Heckmann pointed out that minor issues like leaks could be indicative of more serious issues and would be added to the ever-growing list of projects to keep NIU in top condition.
Heckmann said if students see any structural damage to buildings on campus, they are urged to contact that specific building's supervisor to address the issue.