Store expands DeKalb diversity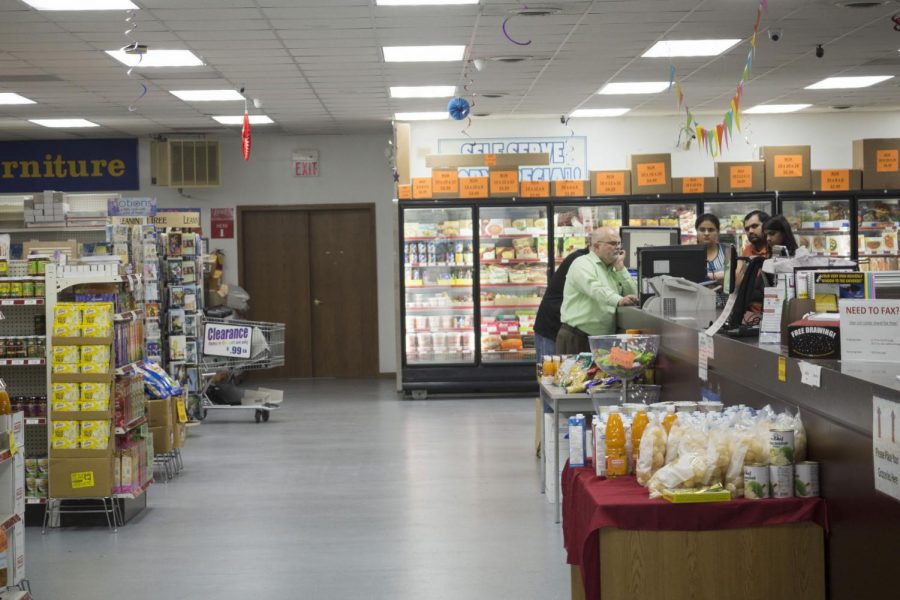 Angela L. Pagan
November 20, 2017
DeKALB — Frozen mangoes, ready-to-eat curry meals with ingredients straight from India and Indian-style yogurt for less than $5 line the aisles of Gurukrupa Indian Grocery & Copy Services, 1005 W. Lincoln Highway.
The small, family-owned business began with the intention to fill a need. Store owner Dwijen "DJ" Bhatt has another location in Naperville which he said was previously the closest location for Indian students or anyone looking for authentic Indian food to get their hands on some.
"A lot of students who come to NIU from overseas, they don't have pretty much any options over here," Bhatt said. "They have to come to either Naperville or Schaumburg…and at the same time, you know students [are] always short on a car or a ride."
Noticing this struggle and wanting to provide international students with a taste of home, Bhatt did his best to make getting groceries an easy task.
"So I started free home delivery for them… and then I realized and a lot of students realized 'it's a good thing that you come, but why can't you open a store here,' " Bhatt said.
Already having experience in small business management, Bhatt knew it would take careful planning to open up a new location in DeKalb. He knew the need for his business was there, but the next step was finding the best location. Bhatt found the perfect spot he said would give students easy access to their basic grocery needs and already had a foundation in the community.
"It's a good option because you know…this copy service business has been here for the last 38 years, so it's a well-known name," Bhatt said. "It's a very good spot…we have a bus stop right here in front of our store."
An analysis of student visa data suggests that in 2016, as many as 178,562 Indian students came to the U.S. to study at American colleges and universities, according to CollegeFactual.com. From this pool of 178,562, NIU was home to approximately 618 Indian students in the fall semester, according to the NIU Data Book for 2016 to 2017.
Although Bhatt thought Indian residents of DeKalb would be his primary business, he said the community has shown a great interest in the new availability of ethnic cuisine.
"At the beginning, I was thinking my target audience would be the Indian people because they know what they are eating, but I'm so surprised the local community is so excited for us," Bhatt said. "They always want to know, always want to try and always want to ask tons of questions because they are so curious to buy and eat."
This need and embracing of new cultures — Indian, Mexican and Asian, for example — is evident to leaders of the DeKalb community.
"People are looking for more of an experience when they go shopping," said Jason Michnick, DeKalb Economic Development Planner. "Diversity, inclusiveness is something that should be really embraced by communities, especially one like DeKalb because we do have a rather diverse population, especially with the university and accounting for international students."
Advancing the development of minority entrepreneurship is one of the state-level programs Michnick is working on bringing to DeKalb to help businesses like Gurukrupa Indian Grocery & Copy Service.
Advancing the development of minority entrepreneurship is a community investment program developed to strengthen Illinois' small business community by identifying and supporting the potential of minority business owners and entrepreneurs through financial assistance and mentorship, according to the Illinois Department of Commerce and Economic Opportunity. The program is in its pilot stage in Peoria, Rockford and Chicago.
Mayor Jerry Smith recognizes DeKalb's demographics are changing, partially because of the university but also because lower income housing that was once filled with students is now the home of families with small children.
"We have a changing demographic community," Smith said. "I think not only do we see that in DeKalb, but we see that in DeKalb county. We have a changing demography with ethnicity, and I think that makes us a more diverse community and a community in which we have the opportunity to embrace that diversity."
Smith said he sees a niche for culturally rich business to bring a new experience to the DeKalb community.
"They provide accessibility of their products to the folks here," Smith said. "They provide an opportunity for folks who are not used to those specific ethnic food or ethnic products to learn more about them."
Diversity seems to be a key to revitalization of the community, as Smith said it is being taken into consideration in regard to the Annie Glidden North Revitalization Plan. The initiative is intended to develop a safer neighborhood for community members and student residents and will be specifically concentrated in the northwest quadrant of the city.
"We have what we call a food desert up there," Smith said. "There is no grocery store in the northwest quadrant of our community. Those folks who might need fresh foods for their kids. If they have to go to Shnuck's, which is fine, but if they don't have transportation and they're relying on HuskieBus Line or VAC, it's not as convenient for them."
Though he has his hands full, Bhatt said he has seen the potential for even more business opportunities in DeKalb.
"At the beginning when we took over this place, my plan was open here in this area kind of a little small cafeteria — we can say an Indian style of Starbucks — that you can have some food here," Bhatt said.
From this growth in diversity and small business, Smith said he hopes to see just one thing: "a community that realizes with change comes the need to embrace our differences, to embrace our similarities, to embrace our history."