5 Movies for Non-Halloween Fans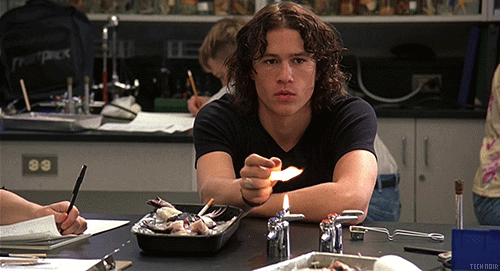 Not everyone is a fan of Halloween, including myself. I'd much rather skip over the holiday and go straight into Thanksgiving and Christmas. Halloween is just too scary for me, I'm a huge arachnophobic and the holiday celebrates things with eight legs. I just want to curl up on the couch and watch some feel good movies.
5. "Elf"
Everyone needs a little push towards funny. Plus I'm more into Christmas time than Halloween, the movie gets me into the holiday spirit early. While the rest of my family coordinates halloween costumes, I'm planning my Thanksgiving dinner recipes and which decoration is going to be on the front of my lawn when I decorate for Christmas on December 1.
4. "Date Night"
If "Elf" didn't get you laughing hysterically, this movie will. Steve Carrell and Tina Fey in a movie together was the best idea. Their witty comedy had to take hundreds of takes to get through, but that just meant a great movie for us. I love watching this on Halloween because all the scary just seems so far away when I'm laughing so hard my side hurts.
3. "Mona Lisa Smile"
With college in full swing, this movie is one of my all time go to when I start the semester. Julia Roberts, Julia Styles, Gennifer Goodwin, Kirsten Dunst and Maggie Gyllenhaal bring a massive cast of leading ladies together to create one of the best romance movies of all time. I like bringing this out near Halloween because the movie is mostly set in the fall and winter days making it seem more like a holiday/fall time movie.
2. "10 Things I Hate About You"
Julia Styles makes my list twice, and not just because of her amazing acting. This movie is a favorite of mine because it's adaptation of "Taming of a Shrew" by William Shakespeare. Plus who can resist Heath Ledger and the speech at the end! This one doesn't have a lot to do with the time period or Halloween which makes it perfect for anti-Halloween movies to watch.
1. "Rocky Horror Picture Show"
Rocky Horror is simply just Rocky Horror. It's always played during the Halloween season and it's also the longest running showing of any movie. It's repeatedly shown in theaters to massive crowds singing and dancing along. Even though this one is usually associated with Halloween, I don't put it into the Halloween movie category because it's about so much more.