Chicago Cubs force game seven for title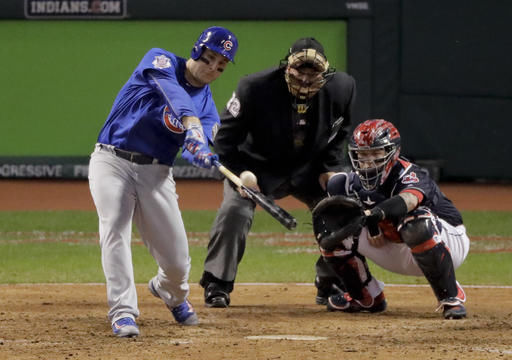 CLEVELAND | Kris Bryant, Chicago Cubs third baseman, hit a solo home run in the top of the first inning and the Cubs never looked back as they defeated the Cleveland Indians 9-3 in game six of the World Series.
The win will force a game seven, and marked the first time in franchise history the Cubs have won back-to-back elimination games in a single postseason series.
Cubs shortstop Addison Russell, at 22 years and 283 days old, became the second youngest player in MLB history to hit a World Series grand slam when he connected on a fastball in the third inning, giving the Cubs a commanding 7-0 lead.
Yankees legend Mickey Mantle hit a grand slam when he was 21 years and 349 days in the game five of the 1953 World Series.
Russell finished the game 2-5 with a double, home run and six RBIs, tying a single-game record for RBIS in a World Series game.
Indians starting pitcher Josh Tomlin went 2 1/3 innings and gave up six earned runs on six hits while not recording a strikeout.
The Indians tried to mount a comeback in the fourth inning when they loaded the bases with two outs, but outfielder Tyler Naquin struck out on a fastball to end the inning.
Jason Kipnis continues to have a successful postseason as he hit a solo home run in the fifth inning to trim the Cubs lead to 7-2.
Cubs first baseman Anthony Rizzo hit a two-run home run in the top of the ninth to extend their lead to 9-2, giving closer Aroldis Chapman more breathing room.
Chapman said he will 100 percent be available tomorrow after coming into the game with two outs in the seventh inning and throwing 20 pitches.
"It's the last game tomorrow," Chapman said at the post game press conference. "We're not going to hold anything back."
Game seven will begin at 7 p.m. Wednesday and will broadcast on FOX.