Cubs tie series in game two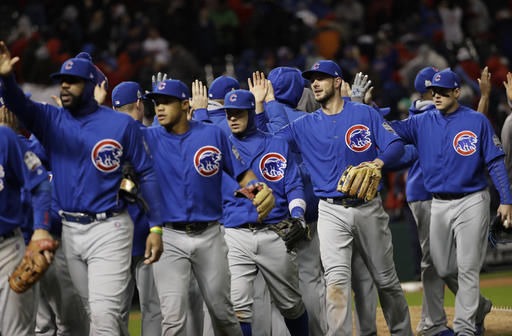 CLEVELAND | The Chicago Cubs defeated the Cleveland Indians 5-1 in game two of the World Series Wednesday night, tying the series 1-1 as the series will shift to Chicago Friday for game three.
The Cubs were led by Jake Arietta, their 2015 National League Cy Young award winner who allowed two hits and only one earned run in 5.2 innings pitched.
A performance like this was exactly what the Cubs needed from Arietta. Jon Lester, Cubs game one starting pitcher, praised Arietta before the game, predicting that he would have a good game.
The Cubs also had a breakout performance from outfielder Kyle Schwarber, who was two for four with two runs batted in for the game, according to MLB.com.
"This is the moment you want to be in," Schwarber said in a postgame interview. "You put everything you can into every at-bat and just go from there."
It is unclear whether Schwarber will be in the lineup as a positional player for game three at Wrigley Field. Cubs' manager Joe Maddon felt comfortable putting Schwarber in the lineup for games one and two because Schwarber was able to play as the designated hitter given the games were held in an American League park.
One person that will be in the lineup is the Cubs' young star pitcher Kyle Hendricks, who had the memorable performance in game six of the NLCS by outdueling the Los Angeles Dodgers' star Clayton Kershaw.
Game three of the World Series begins at 7:08 p.m. Friday at Wrigley Field in Chicago.