Sports editor prediction game seven: CUBS WIN!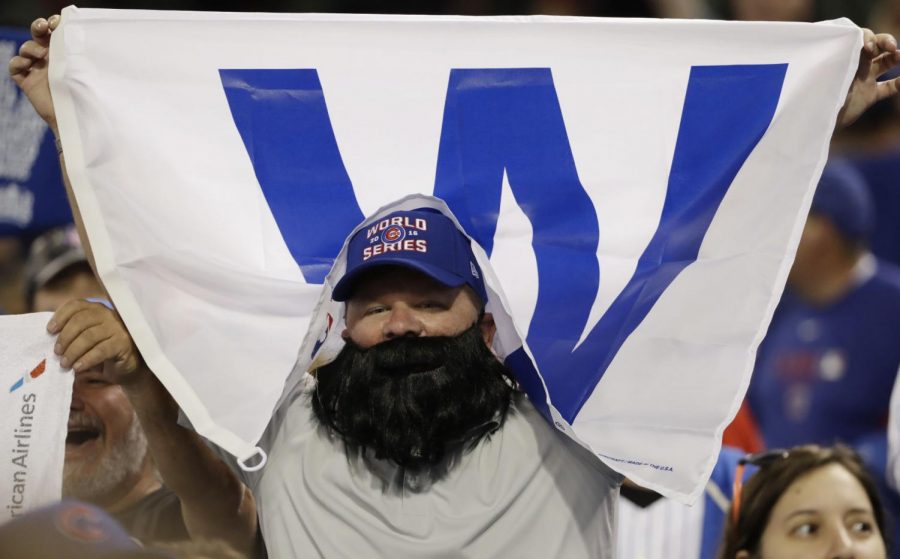 Scott Nicol
November 2, 2016
DeKALB | Throw everything you know about baseball out the window as game seven of the World Series is set to begin 7 p.m. tonight. 
The Chicago Cubs bats were showcased early and often last night as the Cubs defeated the Cleveland Indians 9-3 to even the series at three games apiece. 
This has led to the greatest spectacle in all of sports, a game seven. 
The starting pitching matchup is going to be the telling story, althought it wouldn't be surprising to see both of the starters be pulled by the fifth inning. 
Cubs starting pitcher Kyle Hendricks is 1-1 with a 1.31 ERA in four starts this postseason. Hendricks is averaging near 5 innings pitched per start this postseason as Cubs manager Joe Maddon has not been reluctant to go the bullpen. 
Cleveland's starting pitcher Corey Kluber is 4-1 this postseason with a 0.89 ERA in five starts. This will be his third start of the World Series and won both of his previous starts. 
Kluber has a 0.75 ERA in the World Series, surrendering just one run in 12 innings pitched. 
Kluber dominated the Cubs lineup in game one of the World Series, striking out eight of the first outs he recorded.
The keys for the game will be the same for both teams: Get to the fifth inning with the starter still on the mound, to get their respected team the lead by the fifth inning and then hand the ball over to the bullpen.
Both team's bullpens have been great this series and it will no doubt come down to the relievers again. 
Cubs pitcher Jon Lester said he will be available to pitch even though he started game five Sunday. 
Maddon said he will use Lester as the middle releiver to bridge the gap between Hendricks and flamethrowing closer Aroldis Chapman.
Chapman threw 20 pitches in game six last night after throwing a season-high 44 pitches, two shy of a career-high, on Sunday. 
Chapman said he will be available for however long Maddon needs him during game six's post game press conference. 
For the Indians, they need their offense to wake up. Aside from game three, the teams offense has been dormant. They need shortstop Francisco Lindor to get on-base the way he was in the first half of the series. 
The lone bright spot offensively has been second baseman Jason Kipnis. Kipnis homered lsat night for the second consecutive game, but both were solo home runs. The table setters need to get on-base so the big bats in the lineup have more opportunities to drive them in.
Runs will be at a premium this game as the teams play for all the marbles. 
It will be a race to the bullpen, and whoever has the lead entering the fifth inning will have a great opportunity to keep the lead. 
Chicago Cubs complete the epic comeback and end their 108-year championship drought with a 3-1 win.
Sports as a Part of Life
Atlee Hargis: You're a multi-sport athlete. You played basketball, threw the shot put in track, and of course volleyball. Has sport always been a huge part of your life?
Meg Wolowicz: Pretty much, ever since we were very young. My parents just put my sisters and me in sports; something to keep us very involved with each other and keep us active. We did literally everything from ice skating to golf to tennis to swimming. We really did try it all and I think that really has helped me to become the person I am.
Hargis: With all those different sports you've experienced, have you been able to take something from each and put it toward your play in volleyball?
Wolowicz: I think each sport really brought something different. They added on a new character and trait. You really have to be very open-minded when you try a bunch of different sports. As much as sports in general are similar, they are very different as well. I learned patience from some, and that really helps in volleyball, and that I need to be faster from others. I think that playing sports makes you very well rounded.
Hargis: I'm sure you had a lot of different opportunities with how many sports you played, how did you settle on NIU?
Wolowicz: I had to pick what sport I wanted to do first and volleyball just found its way into my life and I stuck with that. NIU really became like another family. I really saw that through the recruiting, which is a really stressful time. I went to a string of camps in the summer of my junior year, I was home four days in the month of July because I was going everywhere to experience the coaching staff and what they're like. NIU was my first camp and every single camp I went to I was like "Oh but, NIU has nice facilities. NIU has a great coaching staff. NIU makes me feel like I belong". That was a really big part of it. I also found out that I had to have shoulder surgery and so I had to call the college that was my top priority to ask if they wanted to stick with me, because you want to be very open about things with your future coach. Ray [Gooden] was all for it, he said "You get healthy now, we want you later". That made me feel really reassured and so I committed to NIU.
Photo 2
Meg leaps up to spike the ball in a match against Ball State on Oct. 7, which the Huskies won 3-0.
Helping People and Playing for Life
Hargis: You're majoring in rehabilitation services, what drew you to that area?
Wolowicz: I chose NIU because it has a lot of different majors. I was wishy-washy coming in; I didn't really know what I wanted. I just knew I wanted to help people. I want to go into rehab services to help people with hearing impairments and people who are deaf and that's a really good way to go into working as an occupational therapist. I was in a sign-language group for a number of years and really enjoyed that. Mary Grace has a brother who is deaf and meeting him and doing some research really clicked in how interested I was in the field. No matter what I'm doing, I want to be able to help someone in some way.
Hargis: What about volleyball beyond graduation?
Wolowicz: I hope to play overseas first and get into coaching.
Hargis: What are the opportunities available overseas?
Wolowicz: A lot of different countries in Europe have different levels you can play at, like here. Going overseas and playing is a good way to get yourself out there. You can bounce around from team to team. It looks very good when you're trying to come back and get a coaching position. Playing in college and overseas shows you have experience.
Hargis: Maybe you can get Ray to give you a recommendation.
Wolowicz: Yeah, Ray is very helpful and I'm very lucky to have him as a coach.
Photo 3
Meg sets a ball for teammate Mary Grace Kelly during a match against Bowling Green on Sep. 24.
Excelling from the Start
Hargis: You came in as a freshman, started every game, and made a huge impact leading the team in blocks. Were you expecting that kind of a breakout season?
Wolowicz: No, no, no. I didn't expect I was going to be playing at all. I honestly had no idea. You go through practices and work very hard. I thought "Wow! Jenna [Radtke] is very good; I can't compete at that level". That's definitely how I felt last year. You go through preseason thinking, "This is tough". College ball is very different from high school. The first three weeks are very eye opening; we're here on campus alone with just volleyball. Matt [Sprague] told me there was a 95% chance I was starting. It didn't sink in because I was thinking I'm still just a little freshman. It took a long time to get adjusted to the team because they're very experienced and compete at such a high level. It was really an honor to play as a freshman. I really didn't expect to get the playing time that I did. Each opportunity was a new experience and it was amazing.
Hargis: What was the most shocking thing about transitioning from high school to the collegiate level?
Wolowicz: The hardest part was understanding how much faster the game is, because in high school the sets are very high or inside. If you're late you can get to them, stuff like that. It's very, very fast here and we try to run a quick tempo. Practicing against the other half of the team, running drills, I felt so overwhelmed. Learning Ray's type of communication is very different. Sometimes he doesn't talk and just whistles and I won't even know what he's saying. It took a really long time for me to know that it was all right to ask for help and tell him I didn't know what was going on. He was really good with working you in, making the transition smooth.
Hargis: Can you tell me what the difference is between an outside hitter and a middle blocker?
Wolowicz: As a middle blocker you tell people blocking schemes and you need to point out where the hitters are and see the court really well, as everyone does. That's really hard to do coming in when you don't know the calls. You have to be able to block all three positions which is pretty tough, you have to work very hard. Blocking is such a huge part of the game, it's your first line of defense. Any touch we can get on the ball helps our back row players out. Blocking is not easy, I struggle with it still.
Hargis: Your stats suggest otherwise, but it's good for an athlete to want to be better.
Wolowicz: As an outside hitter you get a lot of the balls that are out of system and you're expected to be able to kill the ball even if its five feet off the net or even if it's shot down. I give a lot of props to the outside hitters because they work very hard and have to play defense. Middle blockers, we block, but we don't really play in the back row. Outside hitters are in the whole game, whether they're hitting in the front row or the back row or playing defense or blocking. They're both equally hard, I think.
Photo 4
Meg celebrates a point during their 3-0 win against Bowling Green on Sep. 24.
Being a Team Player
Hargis: You more than anyone else here at NIU have perhaps the most emotional reactions when playing. Has that always been a part of your game?
Wolowciz: I think so. I saw what I could do to help my team with my reactions. My mom and dad talked to me, telling me that I can do something special with the way I react. So I decided to do something productive with it. I could see it a little more as I got older. If I'm very happy and upbeat, it helps people out and makes people enjoy the match. It's very cool to see people be happy and it's a way for me to relieve stress. I don't think about it as doing something on purpose, but if I'm helping out in a positive way and making others happy, that's all I want.
Hargis: I guess the only concern is knocking Paige [Dacanay] over.
Wolowicz: Paige is so fun. It's so fun being on the court. She'll come up and let you know it's all right to celebrate a block or a kill. Playing and just being able to cheer is something I love.
Hargis: How much have your two upperclassmen middle blockers, Jenna [Radtke] and Lauren [Zielinski], been able to help you?
Wolowicz: I can't put into words how much they've been able to help. Even Bri [Horwath] and Mary [Grace Kelly] too, the four of them have really made a big impact on my life. I play a couple of rotations with Jenna, she has so much advice to give. Even if it's just asking her to do something again to see if I can put something she does into my game. She just knows so much and can see the court so well. Having Lauren there too, she's a very witty person. I'll be on the court thinking I have no idea what to do and she's like "We're good, don't worry about me, do your thing and we'll be good". We work very well together. It's so awesome to have the four of them next to me and able to support me. I honestly couldn't ask for better upperclassmen to be with us because they're making such a difference.
Hargis: You guys go through a lot of big schools, what's it like to go from Wisconsin to all of these places?
Wolowicz: It's a very eye opening experience. I've never been to Hawaii and we got to go this year. I watched the sunrise every morning because it was so pretty. I got to go to Washington D.C. I've always wanted to go to Washington D.C. The monuments were sweet; we got to go inside the Pentagon. I grew up in a decently small town in Wisconsin and I'm getting to expand what I see and I couldn't have done that without volleyball. I wouldn't have it any other way and these girls are my second family, I couldn't ask for anything better.
Photo 5
Meg huddles together with her teammates during a match against Loyola on Aug. 27.
Hopes for the Future
Hargis: With the MAC tournament being held in DeKalb this year, that's got to be a nice advantage, right?
Wolowicz: What's so special about playing here at NIU is how small the gym is and how close we play to our fans. If we play in the bowl it's like all of the other arenas we play in. It makes a difference. The fans seem so far away in other arenas. When all of the bleachers here are full, it's a very comforting feeling, being here in this gymnasium.
Hargis: You've only just begun your journey here at NIU, but have there been any moments that stuck out to you as being particularly memorable?
Wolowicz: Last year when we played Iowa, that was a great match for us. It's not necessarily a specific match, but the feeling after we beat Bowling Green, it wasn't a great match for us, but we won the conference. We were so happy and together. What's really memorable to me is the feeling and interactions with the team.
Hargis: What are your hopes for your future here at NIU as a volleyball player?
Wolowicz: Winning the MAC tournament is a huge one. This year specifically it would be really cool to win the regular season title again, because we have such a great group of people to do it with. That would hopefully lead into winning the tournament. That would be one of the biggest highs I've ever had and that would mean going to the NCAA tournament and that's my dream. In the future, I'd like to step into a leader spot, learning from our seniors now to do that.