Alumnus reflects on NIU Athletics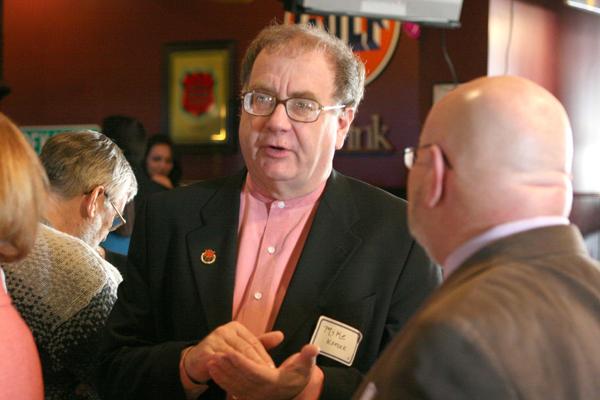 Mike Korcek, NIU alumnus and retired sports information director, has been around to see it all — or at least five decades worth of historic moments in NIU Athletics.
Korcek worked as a Sports Editor for the Northern Star before getting his career started in sports information. He's a member of the Hall of Fame committee and was inducted into the Hall of Fame in 2003.
Q: What have been some of your proudest moments as a Huskies fan?
A: I look at the 2003 football season. I thought, "wow, will we ever top this?" And we did by going to the [2013] Orange Bowl. Going to the Orange Bowl might have made up for the bowl snub in 2003. You beat Maryland, the reaction was tremendous. The reaction in Chicago, the reaction of alums — I got emails from all over the world. We start off 7-0, 10th in the BCS poll and 12th in the AP poll. It was a downer when we didn't go to a bowl game. Now we're spoiled. We've gone to seven bowl games. I wanted Michael Turner to go to New York. I thought Leshon Johnson got robbed. He should've gone to go to New York and been a Heisman finalist. He was unanimous first team All-American. No other athlete in the history of the school had done that. Jordan Lynch deserved it his senior year. He carried the team to those wins and that's how he got to New York. There's no doubt in my mind.
Q: What do you think could maybe be the factor that takes NIU Athletics to the next level?
A: Every conference has its strong teams and weak teams. When you're playing in the Big 10 week in and week out, you're asking an awful lot. When you talk about records against the Big 10, I would politely inform the Chicago media that there's never been a Big 10 team in that football stadium. All the times we play a Big 10 team it's on the road. We've played two or three at Soldier Field. I'd like to play a few home games. It's not just about the football, it's about the entire institution, the facilities, the support, the alumni support, the endowments.
Q: What do you think of people saying NIU is ready to make the leap to a higher conference?
A: This is an arms race, and you need constant support. There's all these rumors flying with fans saying, "Oh gee, someday we'll be in the Big 12." Right now we're not ready for the Big 12. I'm a Northern Illinois guy. We're not ready to play in the Big 12. There's some criticism of the MAC, and I understand it, but right now it's our home.